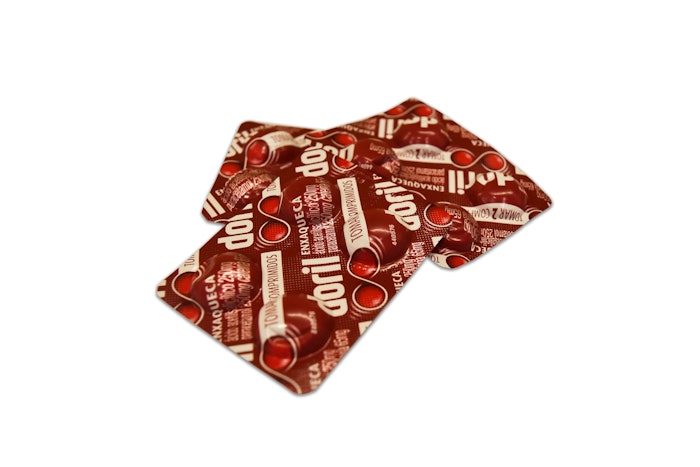 Bemis Latin America was named a Diamond Finalist winner in the 28th DuPont Awards for Packaging Innovation for its printed coldform for Doril Enxaqueca medicine. Enxaqueca is a Portuguese word for headache or migraine.
Exhibiting excellence in Technological Advancement, Responsible Packaging and Enhanced User Experience, Doril Enxaqueca is said to be the first product to use coldform printed locally in Brazil.
With the printed coldform, the entire area of the package, including the formed bubble that accommodates the medicine, can be used for product communication, creating greater exposure of over-the-counter products. The new package also reduces production time and offers a more competitive price to pharmaceutical manufacturers. The use of new special inks in the formed bubble helps resist stretching of the material at the time of the cavities' formation, eliminating cracking and printing with distortion.
As a result of the printable area and coldform protection, the product does not need a folding box, reducing the amount of packaging in the supply chain, further allowing a more competitive price for pharmaceutical manufacturers.
The DuPont 2016 Awards for Packaging Innovation recognize companies that have responded to worldwide demand for improvements in customer product experiences and sustainability, and incorporate simpler messaging and cost-efficient production technologies.
The newly inaugurated Diamond Finalist award, given to six companies, acknowledges the growing number of packaging innovations that excel in all three categories: technological advancement, responsible packaging and enhanced user experience.
The DuPont awards for Packaging Innovation represent an international competition that honors innovations in packaging design, materials, technology and processes. This year, an independent panel of packaging experts evaluated nearly 200 entries from more than 25 countries.
Containing aspirin, caffeine and paracetamol, Doril has antipyretic and analgesic action. It acts in pain relief and fever reduction. Caffeine gives a relief also in headaches.
Companies in this article