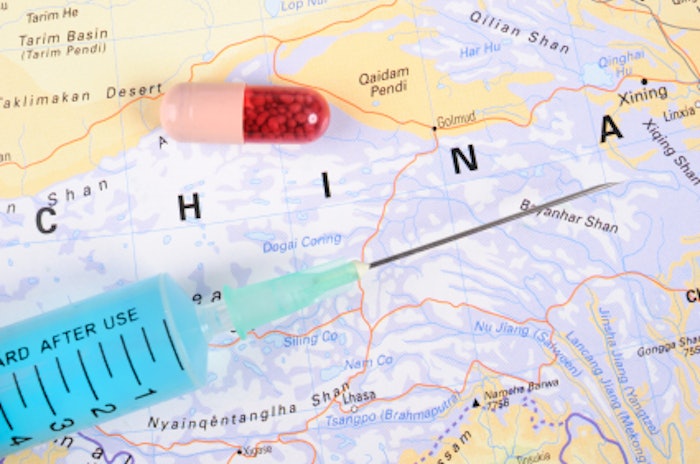 In July, OrthoStreams, a daily orthopedic news and commentary website, reported that China became the second-largest medical device market in the world, trailing only the U.S., although other reports put Japan in the number-two position.
"China is home to nearly one-fifth of the world's population, and with 1.3 billion people and an expanding middle class, it has witnessed an almost unbelievable rise in healthcare consumption," said the OrthoStreams article. "More citizens are spending more money on healthcare, including sophisticated medical devices. No wonder U.S. companies want to play the import/export game with this rising star."
The Freedonia Group's August 2013 "World Medical Device Packaging" report noted, "In the developing world, China will provide the largest and broadest sales opportunities for medical device containers and related accessories due to burgeoning domestic and export markets for its medical goods. Spurred by rising investment, China is evolving into a leading worldwide developer and supplier of technologically advanced medical products."
Research and Markets' website noted that GBI Research's Feb. 2013 report, "China Pharmaceutical Market Outlook—Government Incentives, Healthcare Reform and a Rapidly Aging Population Provide Strong Stimulus for Growth" said, "The Chinese pharmaceutical market has the world's largest manufacturing capabilities, producing more than 4,500 drugs and exporting various pharmaceutical products to the global market. Recent healthcare reforms have been driving the pharmaceutical market by increasing public access to drugs. In addition, recent population changes such as a majority move from rural to urban China, a rapidly aging community, and an increasing overweight population are driving the value of the Chinese pharmaceutical market."
More information comes from BCC Research in its report "The Chinese Market for Medical Polymers." The report notes, "The Chinese market for medical polymers was valued at $1.7 billion in 2011 and at $1.9 billion in 2012." The report forecasts total market value to surpass $4 billion in 2017, after increasing at a five-year compound annual growth rate (CAGR) of 16.1%.
"The Chinese medical polymer market is growing quickly due to its close relationship with the pharmaceutical and medical device industries in China. The medical polymer market has grown steadily over the last 20 years and BCC Research predicts that this growth will continue over the next five years.
"The Chinese medical polymer market is expected to be influenced by several factors such as the fast growth of the medical products market, establishment of pharmaceutical and medical device manufacturers in China, shifts by polymer manufacturers towards medical applications, production efficiency improvement, low emission standards and solutions for environmental constrains," says the BCC report.
Another bit of insight pertaining to China's future comes from the ARC Advisory Group's July 26, 2013 report on Programmable Logic Controllers and PLC-based Programmable Automation Controllers.
ARC notes, "While stagnation, debt crisis, an aging society, and engineering shortages in Europe are creating structural problems, emerging Asia will recover more quickly to become the largest PLC market from 2016 onwards. The current problems are mostly of a cyclical nature, and long-term indicators point nowhere but up. Still, the times of prolonged double-digit growth will not return.
"This development is being driven by demand in China and the emerging Asian market, which will continue to grow at above average rates. In addition to Japan; China, Korea, and Taiwan have now established themselves as part of the global machinery market. These markets will also shift towards more high-end automation in the forecast period, developing more sophisticated machinery for export."
In April, the U.S. Food and Drug Administration requested a budget of $4.7 billion "to protect and promote the public health as part of the President's fiscal year 2014 budget." Among the items, FDA Commissioner Margaret A. Hamburg, M.D. asked for "an additional $10 million, above FY 2012, for overseeing the safety of goods from China. This increase will add 16 new inspectors in China, who can conduct more inspections and train Chinese counterparts, strengthening our ability to prevent safety problems before products reach the U.S."
Future trade events
• Oct. 29—Nov. 1, 2013, China-Pharm 2013, China National Convention Center, Beijing.
• Nov. 11-13, 2013, The Biotechnology Industry Organization Convention, China National Convention Center, Beijing.
• March 3-5, 2014, Sino-Pack 2014, the 21st China Intl. Exhibition on Packaging Machinery & Materials, China Import and Export Fair Pazhou Complex, Guangzhou.
• June 11-13, 2014, The China (Shanghai) Intl. Medical Devices Exhibition 2014, China Shanghai World Expo.
Companies in this article