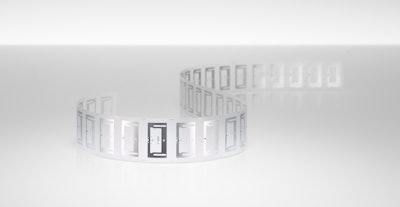 This content was written and submitted by the supplier. It has only been modified to comply with this publication's space and style.
New launch: Avery Dennison's ultra-small Minidose U8 RAIN RFID inlays for pharma applications, the first products on the market to receive ARC certification (Spec S) from Auburn University's RFID Lab, and to be approved for use by DoseID. Minidose U8 inlays have been carefully designed to blend performance, cost-effectiveness and size to work on multiple items such as syringes, plastic and glass vials, as well as packaging designs used for all kinds of pharmaceuticals.
Minidose U8 is a UHF RFID product performing in the standard UHF RFID frequency band between 860MHz-960MHz. It has a small form factor of 22x12mm, is available in dry and wet formats, and uses NXP's proven UCODE®️ 8 IC.
Hal Hikita, head of product line management at Avery Dennison Smartrac, said, "As the smallest product currently on the market that has passed ARC Spec S, Minidose U8 meets the needs of a wide range of pharmaceutical item-level packaging solutions. The inlay is qualified to perform robustly on clear and amber glass as well as plastics and syringes even when filled with pharmaceuticals and biologicals, thereby unlocking critical RFID value for healthcare, pharmacies, and laboratory asset management."
Avery Dennison Smartrac is the key RFID partner for Kit Check, a leading provider of automated medication tracking and diversion detection solutions for hospital pharmacies in the U.S. The Kit Check RFID-enabled inventory management solution helps hospitals modernize restocking processes, and automate them to save redundant drug spend and ensure patient safety.
According to Kevin MacDonald, CEO and co-founder of Kit Check, "Since our inception, Kit Check has experienced great success working with Avery Dennison Smartrac to design and implement RFID tag designs. We tag a myriad of pharmaceuticals through the Kit Check solution to deliver the right medicine to the right patient at the right time, every time."
Avery Dennison Smartrac is an RFID innovator in the healthcare and pharmaceutical market, and designs systems to meet specific customer requirements with the goal of ensuring patient safety, increasing nursing "time to care," and decreasing inefficiencies in the operational process. In addition to designing RFID products that enable item-level tagging in the pharmaceutical sector, the company produces a wide range of other products for many industry sectors.
Available as wet and dry inlays with the NXP UCODE 8 IC, Minidose U8 will ship in volume from Q2 2021. Minidose U8 inlays are compliant with ISO 9001:2015 Quality Management and ISO 14001:2015 Environmental Management, which ensure a reliable and state-of-the-art product that meets a variety of application needs. They are manufactured according to the industry's highest quality standards, as confirmed by the RFID Lab at Auburn University, which awarded Avery Dennison Smartrac its first-ever ARC accreditation for overall design and manufacturing quality.
Companies in this article