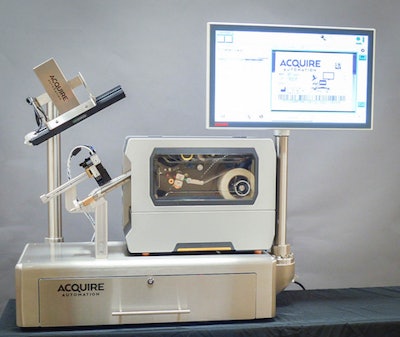 Acquire Automation's new Q Series tabletop label printer and reconciliation system simplifies label printing, inspection, and accountability by integrating all three activities into one system. This new version of the Acquire LPRS system is a desktop industrial print and inspection verification system designed for smaller batch print jobs.
LabelQ is designed specifically to meet the print requirements of pharmaceutical and life science companies. It is built to be compatible with Zebra's Xi4 and ZT600 series printers. The system includes OCR (optical character recognition) and barcode verification as standard inspections and offers an optional full label print quality inspection for in-process verification of variable text, barcode, and print quality. It comes with a standard resolution camera, offering the option of high-resolution imaging.
Following printing of the thermal labels, each is immediately inspected by the LabelQ vision inspection system for quality of printed text, artwork and both 1D and 2D barcodes, ensuring that all are readable. LabelQ can inspect labels up to 4 x 6 in. in size; an option enables inspection of label sizes to 6 x 9 in.
Incorrect, incomplete, or unreadable labels are rejected before they can be applied to packaging and reach consumers. An additional option is a thermal ink-jet marking device that clearly marks rejected labels to prevent their inadvertent use.
Acquire's pdf artwork import feature offers another option. Rather than training the system with an actual label image, artwork can be imported automatically—directly from a network site, after which operators select key artwork inspection areas and start the system. Since this feature downloads the artwork from a network location, it can also notify operators if the artwork is current or has changed since the last date of printing or configuration.
Acquire's LabelQ also offers a user-friendly operator interface, reducing setup and operational labor costs while increasing the quality and accuracy of label inspections.
Acquire Automation backs LabelQ and all its systems with an in-house team of engineers dedicated to improving its customers' manufacturing and labeling success.
LabelQ is designed with ease of use, robust inspection, and technology and support to meet the requirements of pharmaceutical and medical device industries.
Companies in this article