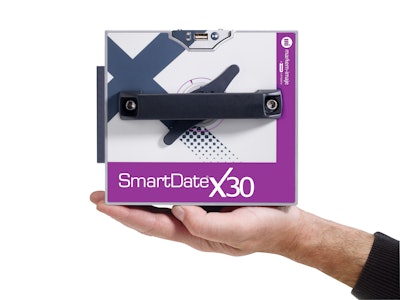 The SmartDate® X30 thermal-transfer overprinter (TTO) from Markem-Imaje provides high-quality printing and uptime, with optional specialized features such as unique coding. The overprinter's hardware and setup requirements are also streamlined.
At 20 cm x 17 cm x 18cm, it is the smallest coder in the portfolio, making it easy to install into production lines or integration by original equipment manufacturers (OEMs).
Also, a typical TTO coder needs multiple hardware modules installed per line. The SmartDate X30, by contrast, only requires one box per line and a handheld, menu-driven operator terminal that controls one or more coders. Unlike other coders, it requires no plant air. It also offers manufacturers the advantage of simply plugging it into their OEM machinery, reducing installation time and expense.
The coder retains the automatic setup and dead-dot detection capabilities of the SmartDate® range, ensuring that uptime and quality are maximized. Intelligence built into the coder automatically identifies and accepts new ribbons without the manual intervention required by thermal-transfer coders from other manufacturers. Similarly, advanced printhead monitoring detects and helps eliminate faulty codes.
End users can choose from all SmartDate X-Series ribbon types ranging from economy-grade through to complex options with enhanced mechanical, heat and solvent resistance—all of which have been shown to deliver up to 15% more codes per roll.
Options available include having the power supply within the machine, should the user not wish to run the coder from directly from the production line. If end users prefer the more traditional approach of one operator terminal per coder, they can buy as many extra handheld devices as required.
The SmartDate X30 comes with a 12-month warranty as standard. SmartDate X30 printheads themselves include warranty protection for up to 12 months or 40 kilometers of ribbon passing through them. There is also quick access to a single point of contact for expert support on both the coder and ribbon via Markem-Imaje's global service network.
For now, SmartDate X30 is available in China, Bangladesh, India, Pakistan, Philippines, Sri Lanka and Singapore.
Companies in this article