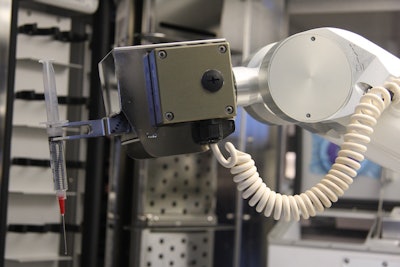 ARxIUM, developer of pharmacy automation, workflow and consulting solutions, announced several new features for its RIVA IV compounding system, which advances the company's Pharmacy 4.0 initiative. The applications further improve patient and staff safety, medication accuracy and pharmacy workflow. The system now includes bi-directional interface capabilities that allow RIVA to communicate with other pharmacy systems.
Additional features include RIVA's multi-language interface and ability to produce customizable labels and barcodes on compounded sterile preparations (CSPs). Also, the system can handle multiple types of closed-system transfer devices (CSTDs) during IV compounding and provide enhanced business intelligence and web-based analytics and reporting.
RIVA's upgraded capabilities demonstrate the company's commitment to Pharmacy 4.0, its first-to-market initiative that oins clinical pharmacy, central production and automation advancements. The approach brings industry-like advancements to the pharmacy and combines automation and interactive data exchange processes to address increasing demands in real-time. The additional features exemplify Pharmacy 4.0 concepts that provide open interface, information transparency and decentralized decision-making capabilities. As a result, the advancements improve resource optimization and medication production and deliver innovative pharmacy value chain solutions.
RIVA's bi-directional interface provides interoperability with multi-platform IV workflow systems to assist in central ordering, inventory management and other pharmacy needs. Communication between RIVA and the systems improves efficiencies and workflow. For example, RIVA can receive medication orders from other IV workflow systems and report back CSP data and inventory usage to support decentralized decision-making across the systems.
In addition, RIVA offers another Pharmacy 4.0 concept by providing users with multi-language options for end-to-end localization with hospital interfaces, reporting and nurse-ready labels and barcodes on CSPs without the need for custom software development. Customers also have the ability to select and print CSP patient- or pharmacy-specific label designs and barcodes. In fact, pharmacies can select from a catalog of label designs and customize information on printed labels as needed.
For instance, labels could include messages about dangerous drugs, expiration dates, storage conditions and other critical information to ensure patient safety and effective inventory management. RIVA automatically prints, applies and verifies medication labels.
RIVA has expanded its capability to handle different types of CSTDs. This improved feature ensures patient and staff safety and provides pharmacists greater purchasing flexibility and other operational advantages. The system's enhanced business intelligence capabilities and web-based analytics and reporting demonstrate additional Pharmacy 4.0 concepts to increase efficiency and productivity.
Companies in this article