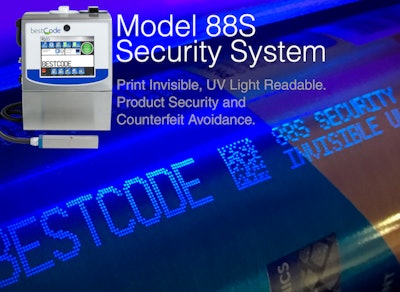 Model 88S Security from BestCode is targeted at product traceability, security, and counterfeit brand protection applications by ensuring the product in question is truly your product
Prints real-time one-dimensional (1D) and two-dimensional (2D) barcodes –Datamatrix, QR codes and other custom dot codes on demand. Barcodes can be encrypted with company and product-specific serialization information.
Invisible ink prints clear and invisible and can only be seen when fluoresced with UV light. The codes and marks light up a bright blue color. Printing is permanent to a wide range of substrates, drying immediately on metal, glass, plastic and more. Invisible codes survive high temperatures and remain invisible when exposed to high temperatures, steam processes such as that used for pasteurizations or sterilization processes.
88S Systems are simplified to allow anyone to operate, minimizing operator touches and extending time between human interaction.
• CleanStart™ automatically cleans printhead, eliminating daily and weekly cleanings.

• 10.4 in. color touchscreen is always on, providing a vivid display with large intuitive buttons and status indicators.

• OneTouch™ single step operator functions reduce operator steps.

• Large-volume ink tanks extend time between fluid additions to weeks or months.

• On-the-fly external ink filling is accomplished in less than a minute with no waste.
• AutoOff™ go home button automates and eliminates time-consuming end-of-day manual routines.
Designed for the global market, Model 88S Security features more than 20 operation and print languages including all Latin-based languages, Chinese, Arabic, Cyrillic, Korean, Thai, Vietnamese, Greek, etc.
Systems utilize the Unicode character set with capabilities to print more than 65,000 different characters and symbols.
BestCode products are backed by CodeProtect™, the industry's best coding system coverage.
Companies in this article