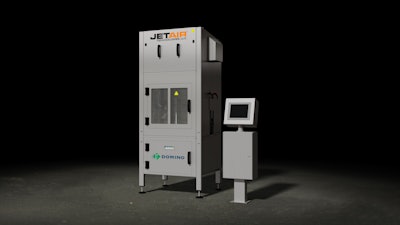 JetAir Technologies and Domino Printing keep customers ahead of the curve with a single, integrated system, solving one of the biggest headaches in inkjet coding. The SureCode™ prepares and dries coding space prior to printing to ensure consistent, quality codes on all packaging surface types.
The SureCode blends both companies' solutions in a single piece of equipment that takes up fewer than 50 in. of line space, addressing a problem that many customers aren't aware of until start up.
The system combines JetAir's surface preparation with Domino's continuous inkjet printing technology, building in quality assurance. The ability for ink to adhere to a clean, dry surface is critical for maximum readability and the survival through the harsh processing conditions the code will face after it's applied. Maximizing the code quality at the point of applying the inkjet code is key to all functions post-coding.
The SureCode integrates surface preparation to deliver a clean, dry container to the print head. This ensures precise, clean codes from the next step of the process (e.g. inspection) all the way to the consumer.
The system leverages JetAir's energy efficient blower, engineered air knives, sound attenuating construction, and built-in water/debris capture. In a single pass, containers are stripped of any moisture or debris that could compromise code printing. Water sheared from the container is captured and plumbed out of the system, keeping plant floors clean and dry.
The container continues through the integrated interior of the machine into the print head station for code application. Once there, Domino's latest Ax-Series printer delivers high-speed coding. Its precision ink drop generation technology enables rapid printing of clean and clear codes.
Companies in this article