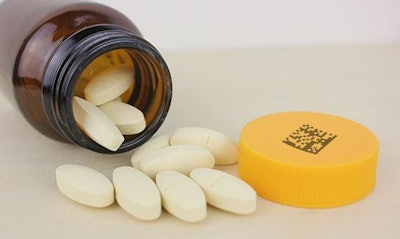 ID Technology, powered by Pro Mach, announced a new labeling solution to assist withFederal Drug Supply Chain Security Act (DSCSA) compliance when packaging round containers.
Since round containers can rotate on the conveyor, it can be difficult to align the GS1 barcode on the label for automatic scanning on the packaging line. Many companies set up "scan tunnels" with multiple machine vision scanners to capture the barcode data, a complicated and expensive method.
ID Technology's patent-pending solution involves printing a unique datamatrix barcode on either the bottom of the bottle or the top of the cap. The helper code is printed before the container arrives at the labeling station.
The datamatrix barcode can be read in any orientation, so the data in the helper code can be captured with a single imaging scanner head.
On the labeling machine (an LSI by ID Technology Model 1500), date/lot codes and serial number are printed on the label, along with being encoded into a GS1 datamatrix code. The label is automatically inspected by a machine vision system and the barcode data captured.
The scanned data is tracked via a shift register until the label is applied to a container. At that point, the helper code data is captured and associated with the stored data from the label barcode. The data is shared with the controlling Manufacturing Execution System (MES) that manages the serialization compliance data.
Once this association is made and stored in the database, the container can be easily automatically identified at any point in the packaging and aggregation process, by simply scanning the helper code.
Companies in this article