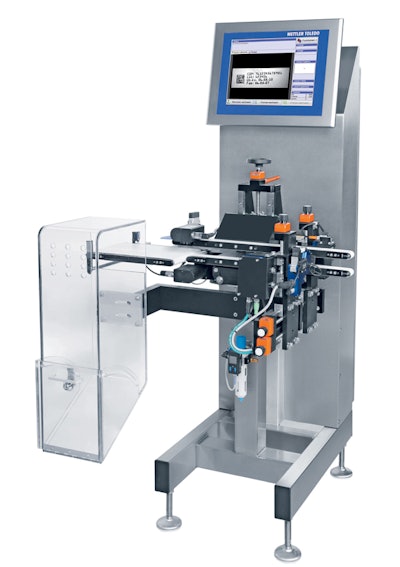 System requires only 800 mm of floor space; combines ink-jet printing of codes with immediate machine high-resolution vision verification of the codes, enabling it to be integrated into any production line with minimal re-engineering of the line configuration.

Satisfies the requirements for the majority of production lines that are slotted for global deployment. Is also designed to function with a variety of leading global marking and camera systems, giving users complete freedom to choose components from suppliers already designated as "trusted partners." This simplifies integration of the system into existing IT networks by using tried and tested data communication protocols.

All components of the system, including ink-jet printing or laser marking systems, high-resolution verification cameras, mechanical transfer units, and sorting devices, work in unison even at extremely high speeds of up to 90 m/min.

The precise mechanical transfer unit of the XMV takes the collapsible box directly from the cartoner and transfers it to the printer in the optimal position for serialization marking. The marking is immediately verified for legibility and correctness using a sensitive optical camera system.

As an option, the XMV can also detect whether the box has open flaps or is not correctly aligned, in order to protect the printer head and downstream bundle packaging equipment. All cartons where the marking cannot be 100% verified as being "good" are rejected into the lockable catch bin. All "good" boxes are then safely transferred to the customer's conveyor for further processing.

The XMV is fully compliant with existing regulations and guidelines for the many different track and trace concepts currently in use. The open software interface enables simple communication with all standard data protocols and network systems, with easy upgrade procedures for future requirements where standards may change or are evolving.
Companies in this article