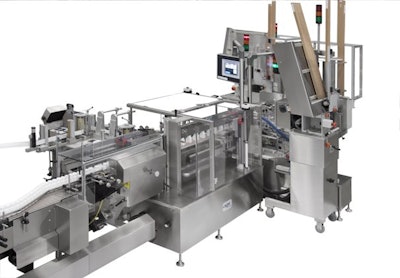 This new high-speed in-line pressure-sensitive labeler is ideal for solid-dose pharmaceuticals. It labels square, rectangular, and round bottles at speeds up to 300 containers/min, applying wraparound or three-panel labels and optional side- and/or top-serts.

The 426 AUTOCOLT offers accuracy and the ability to handle multiple labeling and outserting tasks on one compact platform. Using the new servo Oscillating Pressure Station (OPS), the labeler applies three-panel labels plus a side-sert at higher speeds than traditional in-line p-s labelers, which allows it to compete with rotary labelers.

Compared to complex rotary labelers, the in-line 426 offers faster changeovers with fewer change parts, along with a smaller footprint and lower capital cost.?NJM can equip the 426 AUTOCOLT with a variety of options including glue side-sert and/or top-sert applicators, continuous thermal-transfer printing from Videojet Technologies and OCV/OCR vision inspection from Optel Vision.

NJM outsert applicators allow customers to apply thicker outserts. Each outsert applicator can be equipped with an automated magazine feeder to increase the run time between reloading. The thermal-transfer printer can print lot codes, expiration dates, bar codes, and other variable and fixed data to the pre-printed p-slabels. Vision systems inspect the label web as well as labeled containers and trigger a no-feed response to the outserter to track and reject the container without dispensing and applying an outsert when faults are identified. The 426 AUTOCOLT handles containers from 1 to 9 in. (25 to 228 mm) in height and from 1 to 5 in. (25 to 127 mm) in diameter. Changing over the labeler to handle a new container size and shape and achieve a new label configuration takes less than 25 minutes, with no tools required.

This state-of-the-art labeler easily accommodates RFID tagging and is ready for integration with track-and-trace serialization systems. Ethernet connectivity enables the labeler to communicate with external line monitoring systems.?The stand-alone electrical box provides easy access for maintenance and minimizes the footprint of the machine. The compact 426 AUTOCOLT accomplishes multiple labeling and outserting tasks within a space only 21 ft long and 11 ft wide. To help achieve high line speeds, an all-new servo free loop vacuum box system allows continuous-motion thermal-transfer printing to sync with the intermittent label application function.

Featuring Rockwell Automation Kinetix servos and a Rockwell Automation ControlLogix PLC, all motion control for the main operations are provided by servo technology, which maximizes the reliability and accuracy of the system. Wrap and panel labels are applied within a tolerance of +/- 1 mm and outserts are placed within a +/- 1.5 mm tolerance.

A dual-roll unwind label feeder with splicing capability enables quick roll changes. A Rockwell Automation PanelView Plus color touchscreen eases operation while four levels of password-protected access help maintain optimal performance. A fully enclosed heavy-duty stainless-steel frame and protective guarding keeps workers safe.
Companies in this article