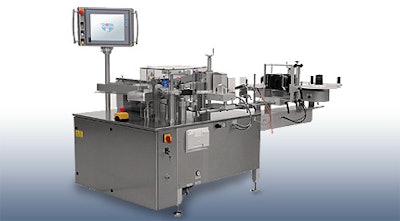 The Rota labeler is equipped with a precision HERMA 400 LV8 stepper labeling head with accurate label tracking and dispensing that's simple to set up and operate on a range of labels.

Ensuring that there is no issue with accumulation of containers, stability of containers, or jams and downtime due to fallen containers, an infeed conveyor belt with adjustable side rails, and separate variable-speed motor will feed containers directly into the infeed starwheel of the labeler.

An intermittent-motion starwheel indexes the vials to the label dispense position. An external roller turns the container to center it eliminate any label skewing, even if the vial bottoms are not completely flat or are at other than exactly 90 degrees to the vial walls.

Printing units are available as an optional extra to print batch number, expiry date, etc. as required. The RE200 is available with several sensors to detect label presence, color rings, and pharmaceutical code.
Companies in this article