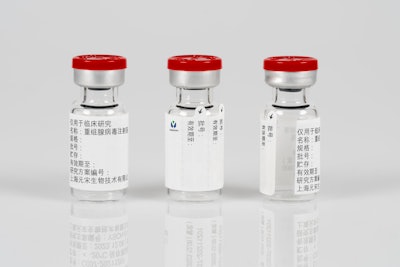 Various clinical trials are currently focused on investigating the systematic use of oncolytic viruses in cancer therapies. Virotherapy is an immunotherapy in which patients receive injections with oncolytic viruses. The treatment employs viruses to infect tumor cells, selectively destroying malignant cells. Shanghai Yuan Song Biotechnology is among the companies conducting virotherapy clinical trials.
In Shanghai Yuan Song Biotechnology's trial, the active pharmaceutical ingredient (API) for its vial-filled virotherapy cancer treatment is especially sensitive, posing labeling challenges. The API must be stored and transported at low temperatures, and is subsequently thawed into a liquid before being administered. These temperature differences place high demands on the adhesion of the marking and documentation label attached to unit-dose vials.
In addition, prior to administering the drug, healthcare staff must check if the medication is flawless and the liquid is clear. A transparent inspection window must be integrated into the label for that purpose. The label also must provide adequate space for important information, and contain two removable parts for documenting the administration of the medication in the patient and hospital files for the clinical trial.
For Yuan Song Biotechnology, Schreiner MediPharm's customized Pharma-Comb IL label was a clear choice. Capable of withstanding temperatures from -20°C to -70°C, the specialty label enables the permanent marking of unit-dose vials, even at very low temperatures, while its transparent inspection window allows the reliable checking of vial liquid prior to administration. Plus, the two removable documentation labels have tabs for easy, efficient peel-off and attachment to patient files for accurate documentation of the clinical trial.
Combined, these features enable reliable and clear product marking, from storage to transportation to dispensing; help optimize clinical trial processes; and support patient safety.
—Edited by Morgan Smith
Companies in this article