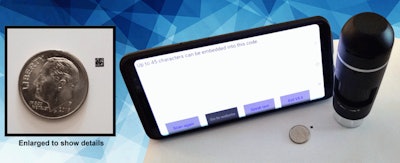 2D codes are prominentin anti-counterfeiting strategies, but limited real estate on packaging poses a challenge for many small products including pharmaceuticals, med devices, cannabis andconsumer goods.

Complete Inspection Systemsshowcased itsHD MicroCode(#C-3605), capable of printing at 600 dpi in a tiny 4.5 mm square with up to 45 characters embedded. When printing at 3200 dpi, the code can be as small 1 mm square.

Companies receive a "code generator" to embed security features, and encryption and security capabilities are maintained by the user. Codes can only be read by authorized smartphones.
Companies in this article