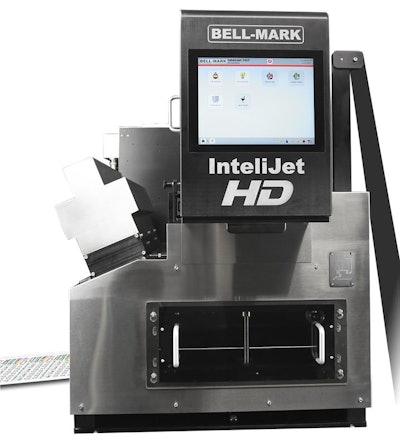 Debuting at PACK EXPO Las Vegas, the InteliJet HD 3A Accumulator Piezo Inkjet Printing System is the first release of a new generation of Bell-Mark InteliJet HD piezo inkjet printers that, according to the company, "sets new benchmarks in the in-line digital printing market on many levels."
Designed to meet the demanding requirements of today's pharmaceutical and medical device packaging industries, the HD 3A delivers 600-dpi print quality on flexible web materials, cartons, and other substrates and can reach speeds to 100 cycles/min plus on an intermittent packaging machine. The system can accommodate web widths up to 630 mm with available options for single-, two-, and full-color CMYK print capabilities.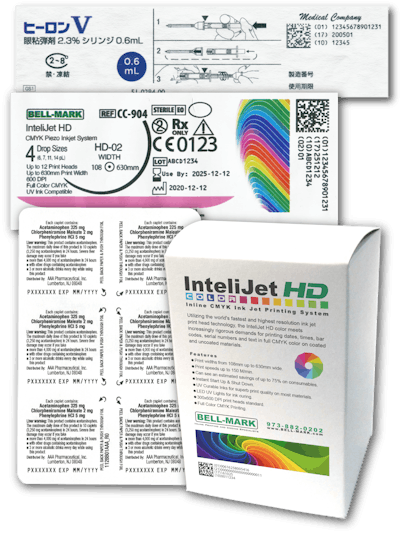 Also featured on the HD 3A is a new buffering system that works independently of the packaging machine's web pull. This integrated web tension control, which Bell-Mark explains is important for printing applications where precise print registration is critical, such as printing UDI barcodes and other variable data, isolates the printing process from the packaging machine's web advance, allowing for consistent web tension during the printing process.
In addition, the HD 3A has new built-in automation processes for maintenance tasks, such as a new automatic purge and wipe feature and an automatic capping feature. With the push of a button, the InteliJet HD 3A automatically cleans the print heads by forcing ink through the nozzles, which helps remove any debris or dried ink that may be clogging the nozzles. The process then wipes the print heads, so they are ready to begin printing. The automatic capping feature covers the nozzles of the print heads when they are not in use, protecting them and ensuring reliable print quality.
"Purging, wiping, and capping the print heads is an important process to ensure maximum life of the print heads and the highest quality of print capable," says Bell-Mark. "The automation of these processes is a valuable feature that reduces human intervention and downtime."
The HD 3A has a built-in 12.1-in. touchscreen display for controlling all aspects of the printer; a remote display option is also available. According to Bell-Mark, the interface has been redesigned to be more responsive and easier to use. The HD's software includes Bell-Mark Layout/Label creation tools, enabling users to design and modify print output templates using an array of editing tools. The printer also has an integrated help system that provides users a convenient way to view tutorial videos with step-by-step instructions on how to perform a variety of tasks.
Companies in this article