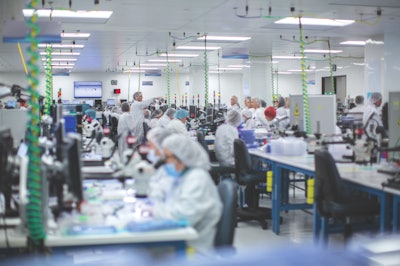 Last year, Healthcare Packaging reported on the 50% efficiency boost realized by MicroVention, an Aliso Viejo, CA-based medical device company, after upgrading to an enterprise-level labeling system provided by TEKLYNX.
After experiencing rapid growth, the neuroendovascular technology company reevaluated its labeling operations and selected TEKLYNX's CENTRAL CFR to gain efficiencies across all facilities.
One year later, they're still realizing benefits in a number of ways:
Access to label templates from all sites
As a global organization with facilities across the world, it's important for MicroVention employees to be able to access the most up-to-date label templates across their multiple sites, ensuring those templates are the approved and final versions.
"MicroVention employs a small and agile team in developing and designing labels," says Frank Carranza, Associate Labeling Engineer at MicroVention. "We manage them all at the headquarters and they can be pushed out to any number of our facilities internationally."
While the same products are manufactured at the different facilities, there may be separate requirements for each particular country when printing the labels. A plant reaches out to Carranza with specific parameters, at which point he creates the designs and finalizes the labels. "With TEKLYNX CENTRAL CFR we're able to publish the label automatically to each plant so it's not a manual process, which involves e-mailing the label. We're designing the label within Orange County and then that's immediately available to our manufacturing plants globally," Carranza explains. "This saves us days because we now have same-day turnaround."
Decreasing production hours through SQL script
TEKLYNX developed a Structured Query Language (SQL) script for MicroVention that synchronizes work orders, products, labels, and variables from more than 50 tables in the company's database.
The SQL script has decreased production labor hours by making recent label updates easily searchable by the associated lot number. The script runs in under 30 seconds and pushes necessary information to the interface so that a user can print a label.
Carranza noted, "For example, one of biggest product families is the V-Trak Advanced Coil System with over 1,700 line items. If any changes were to be made, it would take days to make the changes manually and it was just not feasible. Just on this basis, the SQL script saves literally days of work."
GS1 Wizard helps meet UDI standards
CODESOFT, the label designer within TEKLYNX CENTRAL CFR, contains a GS1 Wizard which has all of the built-in application identifiers so that engineers can easily link what's necessary for the UDI requirements. "It will also go a step further to make sure the data you're entering for a given field is correct. If a certain value is required to be 14 characters long, TEKLYNX CENTRAL CFR will make sure what you enter is 14 characters long. It will provide an error alert if needed, and guide you in creating that barcode, as well as pairing the application identifiers together for you," says Carranza. "When I first started this job, we were under the deadline to put UDI barcodes on all of our medical products and that wizard saved us a ton of time, just by having the information there in a simplified interface, and I was able to use it for all the different templates."
The system also includes a desktop Laser Detect Systems (LDS) scanner box that grades the barcodes on the labels. Carranza explains that after developing and printing a label, he places it in the scanner, which provides a barcode grade—it must be a C or better. "So far with this process, they've all graded well above that. Some at even an A," he says.
Positive reception around the world
MicroVention is using TEKLYNX CENTRAL CFR for every medical device label that they produce. "The process is so much easier—you're scanning items to print out a label and it's usually two items, a look-up code and a lot number. Another facility can preview it and hit enter and the label comes out as intended," Carranza explains. With thousands of SKUs to label, he says the software makes a huge impact. He actually selected the system after experience upgrading to CENTRAL CFR at a previous employer, and knew it would Improve efficiency.
"It's definitely streamlined our labeling department," he says. "The amount of time we save in managing labels now allows us to do other projects. The work flow improvement from the web interface has streamlined all the processes for printing out labels in the clean room. It's reduced the amount of time needed to get their labels out."
Companies in this article