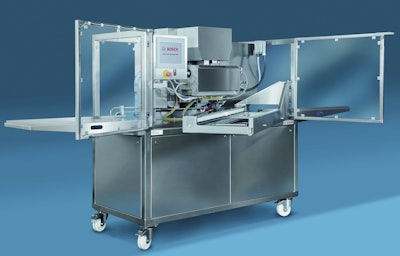 Bosch Packaging Technology recently debuted its testing equipment for jelly production, including medicated and functional gummies, such as cough lozenges, omega-3 and mineral-enriched products, as well as other supplemented jellies.
The company's laboratory depositor and drying room enables jelly producers to accurately test new products while quickly ramping up production of tested recipes to an industrial scale. North American manufacturers can now benefit from Bosch's extensive knowledge in medicated confectionery, plus its years of experience in the pharmaceutical sector as well as its complete systems ranging from raw material weighing and dosing to end-of-line packaging.
The company sees growing demand for functional and medicated jelly in the U.S., with jellies are seen by both producers and consumers as an effective carrier for vitamins, supplements and active pharmaceutical ingredients.
Bosch's GML03 lab depositor and the laboratory drying room tests jelly in smaller volumes, perfect for experimental or seasonal product testing. The new technologies allow manufacturers to upgrade current products and develop new recipes without disrupting their regular production processes.
With an exchangeable pump system and a choice of different sizes of servo-controlled pistons, the lab depositor is able to process a wide range of product formulas to produce jellies, hard candies, toffees, fondant and other confectionery masses, including single, one shot, striped and striped with filling.
To ensure scalability of the process, the depositor features the same recipe precision and ability to recreate that recipe, as found on industrial equipment. The drying room allows for the total control of drying parameters, which are graphically recorded and visualized on a built-in PC for optimal quality assurance.
Both technologies can be purchased or rented, reducing product development costs and significantly improving time to market.
Bosch ensures that all Good Manufacturing Practices (GMP) and Food and Drug Administration (FDA) regulations are met, and its full-scope technologies guarantee high dosing accuracy for active pharmaceutical ingredients (API).
With hygienic design high on the agenda for U.S. manufacturers at present, Bosch designed all GML03 parts that come into contact with product from stainless steel—in line with the FDA requirements. The drying room is fully constructed of stainless steel. By achieving hygienic and authentic production standards, experimental results can be easily transferred to existing lines, reducing time to market and giving North American manufacturers competitive edge.
Companies in this article