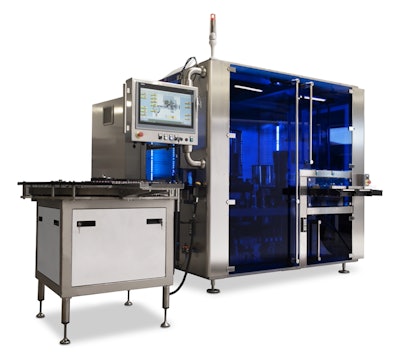 This content was written and submitted by the supplier. It has only been modified to comply with this publication's space and style.
At Interphex NYC, Booth #2821, April 25-27, Antares Vision Group will showcase its Visual Rotating Inspection (VRI) Series automatic visual inspection machine, which is capable of inspecting up to 400 liquid-filled glass containers per min. The machine features sophisticated particle and cosmetic detection that can be integrated with high-voltage, vacuum, and headspace gas analysis (HSGA) technology for closure integrity verification at a rapid production pace.
The machine allows for the precise detection of cosmetic defects and particles, and checks fill levels. The VRI unit can inspect liquids in a wide variety of viscosities, including water-like, oily, suspension, gel, emulsion, lyophilized, and powder products. Vials are also inspected for cosmetic defects, such as crimping quality, flip-off color, neck-shoulder sidewalls, and stopper position. Molded glass and plastic containers also can be inspected for particles and cosmetic defects.

Optional add-on features include code verification, optical character recognition (OCR)-optical character verification (OCR-OCV), and serialization incorporation.
A split-infeed screw setup provides smooth and reliable operation, preventing undesired stops and restarts. A main floating carousel with a torque motor-driven inspection platform allows cleanability and single-point product handling (from the neck), providing a constraint-free optical setup and improved detection capabilities through enhanced field of view (FOV) and depth of field (DOF). Guideless conveying utilizes vacuum-operated star wheels, minimizing container breakage risks and false rejects. Changeover for star wheels and grippers is approximately 30 min, thanks to a guided operations sequence that does not require mechanical adjustments. Inspection reconfiguration occurs intuitively according to recipe selection.

Also at Interphex NYC, Antares Vision Group will showcase its new Easy TS EVO, a benchtop unit providing compact, versatile high-voltage leak detection of any liquid-filled container, including glass ampules, vials, plastic bottles, infusion bags, and blow-fill-seal (BFS) strips. The lab equipment is ideal for offline sample testing, manual small batch inspection, and acceptable quality level (AQL) determinations.

Employing high voltage leak detection (HVLD), the TS EVO provides reliable detection of microcracks or pinholes affecting the sterility of containers.
"As pharmaceutical companies continue to meet evolving and escalating demands, solutions that provide exacting product inspection without diminishing line speeds are increasingly attractive," says Andrew Pietrangelo, president of Antares Vision North America. "Our Visual Rotating Inspection series utilizes state-of-the-art technology to combine precision with expedience, despite the difficult-to-inspect niche of liquids in glass containers. We look forward to showcasing its capabilities at Interphex."
Companies in this article