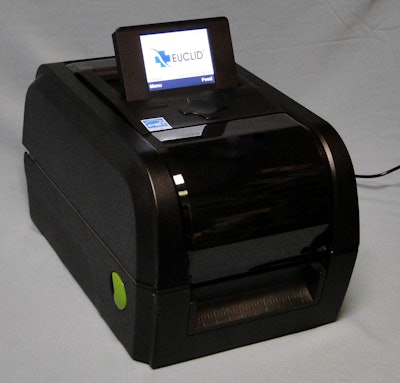 Euclid® Medical Products, a partner for pharmacies, third-party repackagers, and long-term care facilities, introduces the Vantage Bagging Machine, specifically designed to bring simplicity, versatility, and quality to meet all pharmaceutical packaging needs.
The Vantage Bagging Machine is for packaging syringes, vials, and other miscellaneous pharmacy items. The state-of-the-art machine is simple to operate, with a user-friendly display that enables easy access to operating parameters, job set-up, job storage, and onboard system diagnostics.
Tabletop machine operates at speeds up to 25 bags/min, and includes a locking turntable combined with an automatic thread feature to provide ergonomic handling and changeover of Vantage bags-on-a-roll. The Vantage Bagging Machine is compatible with the Vantage software to allow access to all patient information in one database. Euclid® Vantage Software, as well as installation/training, is included in the purchase of any Euclid Vantage Series equipment.
The company says the machine will prove to be a valuable asset to hospitals nationwide.
Euclid Medical also recently launched the Atomic Liquid Unit Dose and the Vantage Label Printer, which serve as crucial components to hospitals across the country looking to increase efficiency while maintaining quality. The Vantage Label Printer is a thermal printer with the ability to read 2D barcodes at speeds of up to 4 in./sec, while the Atomic Liquid Unit Dose tabletop device provides programmable consistency and tamper-evident sealing while offering a Class A closure and producing up to 450 cups/house.
Companies in this article