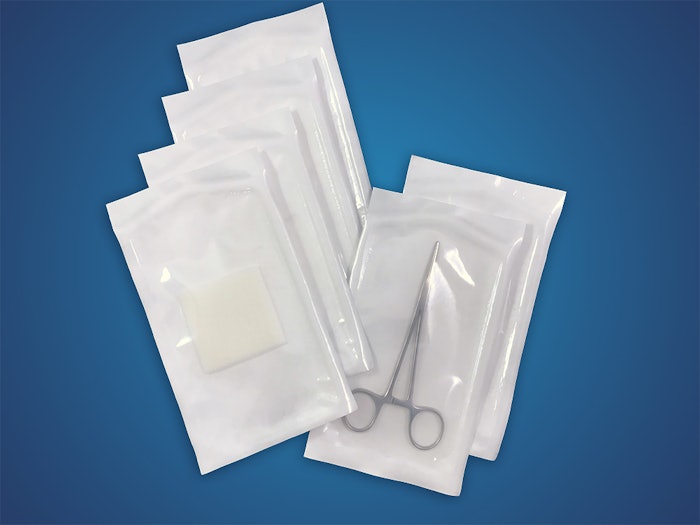 Rollprint Packaging Products, Inc. debuts PropaPeel®STM, a steam-sterilizable composite engineered to seal and peel from uncoated Tyvek®without fiber tear. PropaPeelSTM provides a more robust option for producing Tyvek chevron pouches than the legacy products in the marketplace.
To achieve this, Rollprint created a multilayer, heat-stable composite of polyester and polypropylene copolymers. The end result is a steam-sterilizable chevron pouch that maintains durability and peel characteristics after the heat cycle.
PropaPeelSTM is designed to meet cost reduction and environmental impact goals for a variety of a commercial applications including medical devices and surgical tools. Steam sterilization is often preferred over traditional methods like ETO and gamma as steam provides a cost-efficient and safe way to sterilize the product in-house. Historically, a film that peels cleanly from Tyvekand resists sticking to the product after the sterilization process has been difficult to source.
Rollprint has addressed these concerns through the extensive engineering of PropaPeelSTM. First, sticking of the product to the film is avoided by modifying and controlling the surface roughness and tension of the sealant layer while maintaining clarity. Second, the crystallinity and modulus of the sealant were designed to complement Tyvek, minimizing the stress on the non-woven fibers when peeled.
PropaPeel STM benefits include:
• Fiber-free peels from Tyvekafter steam sterilization
• Seal strength doesn't change after sterilization
• Product contact layer resists sticking
• Ease of sealing with wide sealing window
•Physical properties are not impacted by steam sterilization
•Abrasion resistance is superior to standard PET/PE chevron pouches
The company says validation has commenced for several medical device applications.
Companies in this article