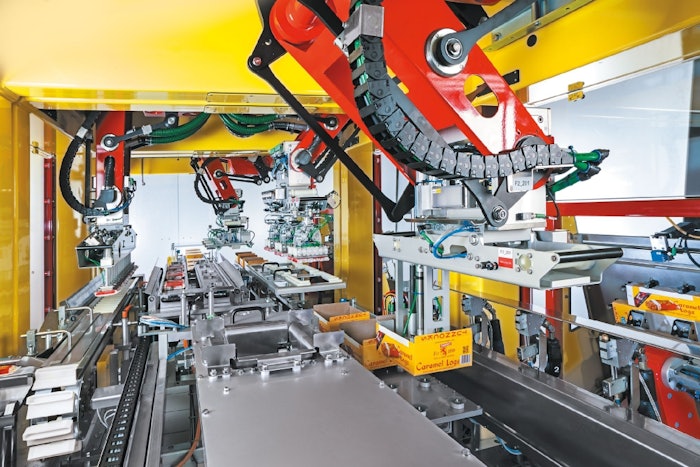 The Schubert Group's modular TLM technology, on a compact machine, packs flowpacks at high speed. Despite its reduced complexity, the machine offers flexibility for producers in various industries.
At PACK EXPO Intl. 2016, the machine's top-loading process will be equipped with the standard components of the TLM packaging machines. The packaging process will be demonstrated with flowpacks containing cylindrical wafer sticks. These flowpacks are placed into display cartons, which are then closed by an F2 closing robot and finally placed on a discharge conveyor.
An F2 loading robot takes 12 flowpacks/cycle from the grouping chain and inserts six products in each box, i.e. two boxes are loaded simultaneously. In this way, the machine achievers a maximum speed of 300 flowpacks/min.
The company will present the TLM packaging machine without an electrical cabinet. The reduced electronics further lower the maintenance costs of Schubert's robot-supported packaging machines. Since the servo modules of the machine without an electrical cabinet belong within a decentralised control architecture for TLM robots, they no longer require an electrical cabinet. That reduces the number of electronic parts, leaving only a few components.
At the same time, the operation and maintenance of the machine are easier than ever. Customers can address their packaging tasks based on more user-friendly automation implemented through virtually uninterrupted operation with minimum personnel input.
The machine's remaining control components are equipped with a water cooling feature, which increases the life of the electrical equipment. It also reduces the system's waste heat. With a heat exchanger, customers can use the energy from the water cooling. Schubert also uses drive systems with energy recovery—as with
Companies in this article