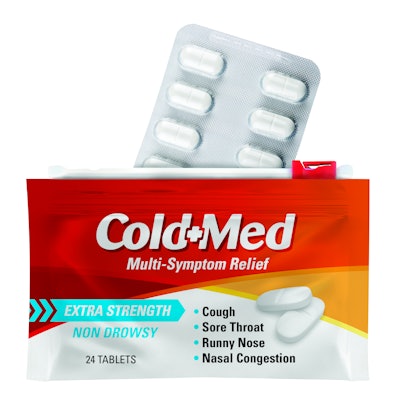 A new packaging format aims to provide drug manufacturers with a novel variation on the traditional blister pack that offers new functionality and possibilities for retailers.
Resulting from a collaboration between Presto Products Company and Bemis Healthcare Packaging, this new format features a flexible pouch instead of the customary paperboard carton used as secondary packaging for blister packs.
The pouch is converted by Bemis and fitted with Presto's CHILD-GUARD™ child-resistant slider closure, enabling drug manufacturers to incorporate child resistance and high barrier into the secondary package. This allows the primary blister package to utilize relatively low cost, non-barrier materials without the added cost of child resistance at the tablet level.
Unlike the carton, the child-resistant pouch offers ongoing value to protect pills stored in medicine cabinets or tucked into a purse or pocket.
Combined, the proven technology behind CHILD-GUARD and strength properties of the pouch deliver the complete child-resistant package.
The CHILD-GUARD slider, said to be the first of its kind, is difficult for a child to open while concurrently being intuitive and easy to open for seniors. This is in contrast to many child-resistant options on primary blister packs, which are typically difficult for seniors to open.
Meanwhile, the pouch is constructed from aluminum foil-based laminated film, providing excellent moisture and oxygen barrier properties.
The traditional secondary blister package, which is a carton, does not have barrier or child resistance, according to the suppliers. With a reclosable, child-resistant pouch capable of high-level barrier properties, there are new possibilities for differentiation, both in the pharmacies as well as on retail shelves.
For over-the-counter products, the new packaging type can set itself apart. The new pouch can also be converted with a peg hole for alternative merchandising options. This format provides an opportunity to present a package differently on the shelf while still having the possibility to use conventional shelving approaches.The billboard for printing a pouch offers the ability to incorporate additional content and facilitate new branding approaches.
Companies in this article