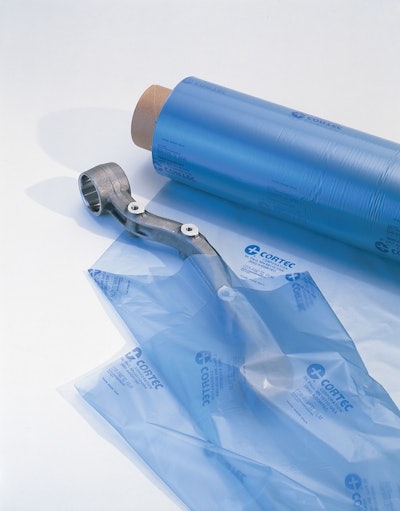 Cortec Corp.'s advanced version of VpCI® 126 Blue-patented, high-technology films and bags now contain an even higher content of recycled resin that provide multimetal corrosion protection. VpCI-126 BlueR can be used for protection of medical and pharmaceutical equipment, such as X-Ray machines.
As part of Cortec's green concept, Cortec® laboratories formulated environmentally improved version of VpCI® 126 films manufactured using state-of-the-art reprocessing line. The recycled content includes internal scrap, which makes the whole regranulation process energy efficient. It reduces waste, while maintaining the consistent quality of VpCI®126 films and bags.
This new eco concept of films and bags containing high recycled content enables rational use of resources and energy savings while the product still maintains excellent chemical, mechanical and corrosion inhibiting properties.

VpCI®126 Blue combines the latest film technology with corrosion protection for all of the metal products. Sealing product in this film protects metal parts from all types of corrosion, including rust, tarnish, stains, white rust, and oxidation for up to five years.
It replaces replaces hazardous conventional rust preventatives such as oils and desiccants. VpCI®126 Blue also eliminates all the degreasing or coating removal required in the past. The product can be used immediately, it does not contain free amines, phosphates or halogen-based materials and is nontoxic.
Metal parts packaged in VpCI®126 Blue receive continuous protection against salt, excessive humidity, condensation, moisture, aggressive industrial atmospheres, and dissimilar metal corrosion. The VpCI's vaporize and condense to metal surfaces in the enclosed package, reaching every area of the part, even hard-to-reach interior surfaces. This allows complete product protection during storage, as well as during domestic and overseas shipments.
Films and bags made from recycled polyethylene have low CO2 footprint because of savings in energy, raw materials and transportation costs.
Companies in this article