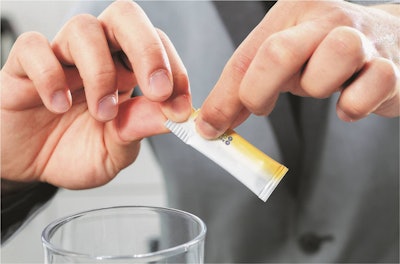 The market for stick-pack applications for packaging pharmaceutical products grows steadily. The handy pack style is used increasingly in China, with its popularity rising due to its minimal material consumption, a fast and safe packaging process, and its use of a packaging system with a small footprint.
One user that has moved from sachets to stick packs is Bright Future Pharmaceutical Laboratories Ltd. Established in 1993, Bright Future notes on its Web site that it has become Hong Kong's largest Good Manufacturing Practice-certified pharmaceutical company. Bright Future operates six GMP production plants and commits itself to improving people's health by producing high-quality pharmaceutical products using state-of-the-art technology.
Until now, Bright Future marketed penicillin powder packaged in sachets (flat pouches). An increase in sales recently led to the decision to search for a packaging that would consume less material. Stick packs proved to be a suitable option.
Bosch Packaging Systems
provides Bright Future with was a packaging line fulfilling all required parameters for performance and quality.
Apart from demands regarding pouch integrity and accurate powder dosing, it was considered crucial to ensure lean processes over the project course in order to minimize resource usage. The stick pack itself is fitted with a perforation for unambiguous, safe opening that ensures easy tearing as well as fast, complete emptying of the package. Bright Future now markets its penicillin as a flow-wrapped multipack containing six single stick packs.
Single-source primary and secondary packaging
The requirements for a stick-pack packaging line include dosing accuracy, reliable primary packaging and safe interface handling. Additionally, a dependable secondary packaging is essential. A PLC-controlled system from Bosch delivers reliability in a small footprint. Both primary and secondary packaging comes from a single supplier.
Primary packaging into stick packs involves precise dosing on a 10-lane vertical Sigpack RA machine. Secondary packaging is completed on a horizontal Sigpack HCM flow wrapper that wraps up to 1,000 stick packs/min.
Individually AC servo-controlled filling augers ensure the required dosing accuracy for the primary packaging operation. As the density of penicillin powder may be subject to fluctuations, individual weighing of each stick pack is indispensable. After weight checking by an in-line weighing system, dosing at the machine is regulated via an integrated tendency control. This continuous adjustment provides a consistently accurate filling process. Following the weighing procedure, the stick packs are counted, grouped, and fed towards the Sigpack HCM flow wrapper. Each sales unit packaged on the Sigpack HCM consists of two stacks with three penicillin stick packs, each in a flat, compact flow wrap. The new secondary packaging is produced efficiently using less material and offers easy handling to the end user.
GMP-compliant design meets customer expectations
Bright Future has always been committed to promoting public health, with the quality of its pharmaceutical products of highest priority. In manufacturing, Bright Future also strictly follows GMP and GLP (Good Laboratory Practice) principles. The line's GMP-compliant construction meets a further customer demand. The cantilever design completely separates process and drive units. Additionally, an ergonomic operating height improves operator access and allows for a direct view into the packaging process. Format changes and infeed of packaging material can be realized fast, and lifetime-lubricated components also contribute to the line's hygienic design.
Human Machine Interface adjusted to pharmaceutical applications
The crucial operating functions such as Start, Stop, and Emergency Stop are integrated on the line's front. All other functions are accessible via a pivoting Human Machine Interface (HMI) with 12-in. color touchscreen. The HMI is available in two different specifications for pharmaceutical applications. In addition to the basic version used by Bright Future, a second configuration level fully complies with the requirements of 21CFR Part 11. It features integrated functions such as audit trail, electronic record and RAID data protection to ensure GxP-compliant operating and data management. Connection to higher-level MES systems is also possible.
The new Bosch line enables Bright Future to package its penicillin powder using less material while increasing efficiency. Simultaneously, the easy-to-open stick packs enhance convenience for the end user. "To supply our global customer base with reliable pharmaceuticals and health products we were looking for a competent partner offering high-quality equipment. With Bosch Packaging Systems, we found such a partner," says Dr. Susanna Wan, purchasing and development manager at Bright Future.
—Edited from an article by Frank Bühler, product manager,
Bosch Packaging Technology
Companies in this article