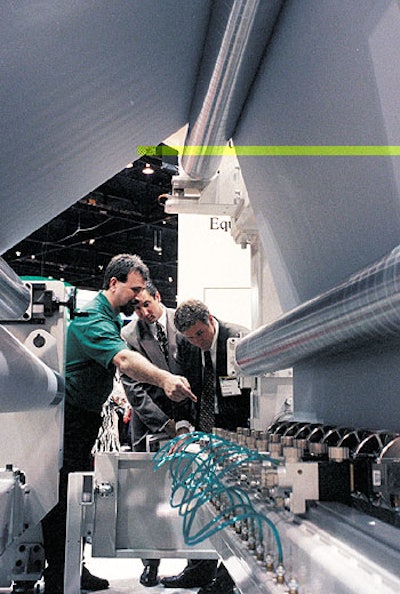 Digital printing technologies, advanced web handling and process automation, e-commerce and critical management issues exemplify the current topics that will be addressed next month at CMM 2001's three-day conference program, whose theme is "Converting Technology into Solutions: The Answer for Business Success."
The conference will take place during the 13th biennial CMM International Exposition, scheduled April 23 through 26 at Chicago's McCormick Place South Building.
Billed as the world's largest showcase and educational forum for the converting, packaging and package printing industries, CMM 2001 expects more than 1ꯠ converting machinery and materials manufacturers and marketers to exhibit the latest products and technologies, using more than 420ꯠ sq' of space. (A list of packaging-related exhibitors appears on p. 72.)
Exhibit hours are 10 a.m. to 5:30 p.m. April 23 to 25; and 10 a.m. to 3 p.m. on the show's final day. Attendance is expected to top 32ꯠ, similar to 1999's exposition. The show is produced and managed by Paperloop (New York, NY). Registration and show details are available at www.cmmshow. com.
CMM Intl. 2001's conference program will include more than 20 sessions developed along three program tracks. Programs are scheduled to run from 8 a.m. to 12 p.m. April 23 and 24; and 8 a.m. to 12:30 p.m. April 25.
Conference schedule
The conference begins Monday, April 23 with three technical sessions and three management sessions. One technical session, Improving your quality and productivity printing lithographic folding boxes, will be given by GATF's Bruce Teitz.
Advances in UV PSAs, including hot melts, with discussions on current technologies, market opportunities and processing equipment will be addressed by Steve Lapin, NW Coatings; W. Pat Foust, Craig Adhesives & Coatings; Ranjit Malik, Adhesives Research; Ingrid Brase, National Starch & Chemical; and Rolf Mueller, IST Metz GmbH.
The third technical conference will be presented by Neil I. Steinberg, Somerset Engineering, and AIMCAL technical consultant Edward D. Cohen. They'll discuss substrate technologies and how they affect the coating process in The importance of the substrate in the converting process.
Management sessions that day include The great debate—packaging graphics printing processes. It features a Q&A between package buyers and industry spokespersons addressing their rationale for selecting a specific print technology. Presenters: John Baker, Sonoco Flexible Packaging; Frank Passarelli, Bobst Group; Achim Schmidt, Heidelberg USA; Lucinda Cole-Semans, FlexSys Training; Tom Jacques, PCMC; and Ron Buckingham, Parmalat Canada Bakery.
Anyone involved in forecasting, budgeting and analyzing future opportunities on a global basis is part of the target audience of Global aspects and market trends: end user/consumer packaging. Making presentations will be Yolanda Simonsis, Paper Film & Foil Converter; Howard Rappaport, Chemical Market Associates; Marie Rushton, PIRA Intl.; Corey Reardon, Alexander Watson Assn.; and Annette Comer, Martech.
New technologies in digital input, color separation, digital proofing and direct-to-plate technologies will be presented by GATF's Greg Bassinger during the session What's new, what's hot on the electronic side of our business.
Tuesday sessions
Management sessions for day two of the conference start with Are new digital technologies a threat to your package-printing business? This session looks at how end-user customers are beginning to print more of their own packaging, particularly for short runs. How digital printing can help converters satisfy end users' needs will be discussed by Converting Magazine's Mark Spaulding and Packaging Digest's Mary Ann Falkman.
Solutions to process automation will be addressed at Process automation—key to productivity. Paper Converting Machine's Tom Apple will make a presentation, as will Rexroth Indramat's Jim Hulman; Dri-Tec's Matthew Tielkemeier; Hurletron's Steven J. Siler; and EI3 Corp.'s Don Klimkowicz. Another session provides a look at market data, consumer influences and the latest technologies concerning Flexible packaging closures and closure technologies.
Tuesday's technical sessions include Advances in coating technology, presented by Fred Shapiro, P-F Technical Services; Donald E. Albrecht, May Coatings; Bob Dages, Kroenert; Sujoy Guha, Wintress Eng.; Rick Jacobson, EMA Services; and Jim Nennig, Megtec Systems.
Practical techniques in flexography for corrugated printers is the subject of a session that will include remarks from John Bingham, Pamarco; Steven J. Dalbey, JM Fry Inks; Steve Rote, KemiArt; and Harvey Schwartz, MacDermid Graphic Arts. Presenters at Advances in electron beam technologies for flexible packaging include Andy Johnston and Jeff Warmkessel, Ashland Specialty Chemical; and Imtiaz Rangwalla, Energy Sciences.
Covering the basics and applications of UV/EB primer will be Craig Glotfelter, BASF; Brijesh Nigam, Sun Chemical; Rick Fisher, Fusion UV; Rick Sanders, Energy Sciences; Rita Loof, RadTech Intl.; and Bill West, Hartford Insurance.
Wednesday wrap-up
Three technical sessions Wednesday spotlight Decoding digital printing technologies, with insight from Ray Dickinson, Indigo America; Geert Vandenhole, Barco Graphics; Don Bence, Xeikon America; Dr. Mark Fleming, Strategies on Demand; Debbie Thorp, Xaar; and Susan Friedman, Package Printing.
An introductory workshop, Better web handling, will be given by Finishing Technologies' David Roisum. Several speakers will explore Packaging graphics standards and specifications during another technical session. They'll include Lucinda Cole-Semans, FlexSys Training; Kevin W. Chop, City Stamp Works; Mark Mazur, DuPont Cyrel® Packaging Graphics; Dave Argent, Flint Ink; Rick Hocking, Banner Packaging; and Jeff Randazzo, Imaging Intl.
Wednesday's four management sessions include Smart service expansion; when should package printers diversify?, which will look at how to pursue growing packaging segments through the use of narrow-, mid-, wide- and sheet-fed segments, as well as printing/converting service combinations that can provide a point of differentiation. Presenters: Tom Jacques, PCMC; Gary Gates and Wes Harrington, Comco Intl.; Barry Goldberg, Tappa Group Intl., Achim Schmidt, Heidelberg USA; and Susan Friedman, Package Printing.
Exploring new innovations in foil stamping and embossing will be presented by Jeff Peterson, Inside Finishing. Terri McConnell, High Definition Flexo Consortium, will review current flexo market trends during the seminar It's not your father's flexo anymore.
Finally, Coleman Consulting Group's Dennis Murphy will look at innovative scheduling techniques to make package printing and converting operations more efficient, productive and profitable during a session entitled, The complete package: innovative capital and labor scheduling solutions.
Special events
CMM 2001 will include several special events and highlights. Among them is an e-business conference focusing on converting and package printing, from April 22 to 24 at the Hyatt McCormick Place Hotel. For more information on the e-business conference, contact Dana Jacoby at 415/538-3808, or djacoby@mfi.com.
E-commerce isn't the only hot-button topic in converting, however. Another concerns digital technologies and their impact on converting and package printing. To address this issue, CMM 2001 will include a Digital Front End Technology Center & Presentation Theater.
Products on display at the center include digital prepress equipment, color management, digital and conventional printing, computer-to-plate and on-demand printing machinery.
Scheduled to run throughout the show on the CMM floor, the theater will offer consecutive 20-minute presentations, videos and hands-on product demonstrations.
Another feature of the theater is "Workflow Mornings," touted by CMM as a series of educational sessions designed to assist digital prepress packaging professionals in identifying and evaluating the latest digital tools. These sessions are slated for April 24 and 25.
April 22 and 23 are the dates for a Converting Equipment Manufacturers Assn. coating seminar at the Embassy Suites Hotel in Chicago. Shuttle buses will take attendees to and from McCormick South. Day one will cover unwinds and rewinds, web guides, tension control, drives, corona treaters, static elimination and coating, from 9:30 a.m. to 4:10 p.m. Day two, which runs from 8 a.m. to 2:35 p.m., focuses on extrusion coaters, safety, drying systems, web spreading, inline slitting, laminating, installation and maintenance and secrets for a level process and product. To register for this conference, call 201/226-0101.
Separately, a seminar moderated by Marc Anderson of Walter G. Anderson, will offer presentations and discussions about narrow-web flexo printing and its use in folding carton, corrugated and general converting markets. Hosted by the Paperboard Packaging Council, the Narrow web flexo seminar will be held April 25, from 8:30 a.m. to 4:30 p.m. at McCormick South. Manufacturers scheduled to participate include the Bobst Group, Comco Intl. and Zigzag (formerly Chromas Technologies). For more information, call James Brown at the Paperboard Packaging Council, at 703/836-3300, or contact CMM.
The 13th biennial exposition will also include a new Corrugated Pavilion and Presentation Theater that will feature products and technologies from corrugated and folding carton machinery and material manufacturers. It will offer consecutive 20-minute presentations and hands-on product demonstrations throughout the show.
Upstream News
Cast line at Atlantis Plastics
Atlantis Plastics' Custom Films Div. went onstream early this year with a new five-extruder, seven-layer cast coextruded film line from Davis-Standard (Pawcatuck, CT). "In the past, we could only produce three-layer films," notes Mike Sauer, marketing manager for the Atlanta-based converter. "Now we can produce tie and barrier layers, for packaging and non-packaging applications."
The equipment is installed at the converter's Mankato, MN, facility. With the line, Atlantis can now produce cast films for produce and frozen and dry food packaging. The machinery accommodates polyethylene, polypropylene, nylon, polyester, ethylene vinyl alcohol and other specialty resins. Atlantis says it can now produce flat film down to a ± 1% gauge variation for films ranging from less than ½-mil to 8 mils, depending on the material, and in widths from 10" to 120".
Digital label printing
Late last year, pressure-sensitive label converter Beau Label Corp. added an Omnius WebStream digital offset color press from Indigo America (Woburn, MA).
"We're finding that [customers] want higher quality and at the same time shorter runs," explains Vincent Melapioni, treasurer of New York, NY-based Beau Label Corp. "It can be very costly to set up for hours just for a 10-minute run. With the Indigo press, there are no plates involved, which means we can [operate] more efficiently and for less money, and free up some of our other machines for longer runs."
The converter specializes in pharmaceutical and cosmetics applications, and management hopes the press can help it build market share. "We can go back through the six-color Indigo press and run more colors, so if a customer wants 18 colors, we'll be able to do it," he says. Melapioni notes that the printer has produced short-run jobs for several vitamin producers.
Converter of the year
Alan Leeson, founder and president of Spectrum Label Corp., Hayward, CA, will be presented as the Converter of the Year at CMM 2001. Presented biennially, the award recognizes Leeson's years of excellence and achievement in the package printing industry. Spectrum Label specializes in converting materials for health and beauty labels and pouches, and flexo-printing of labels for pharmaceutical, wine, food and shrink film applications.
Converting site
In late January, Chicago-based Selecterra went online with its www.selecterra.com emarketplace. The Web site aims to join buyers and sellers in the specialty converter business. It's designed to provide converters with the tools and resources to specify, select and order tapes, labels, foams, films, inks and plastics. Packagers can use the site as they design products in an effort to shorten the development cycle, and use a directory to source an appropriate converter.
Interchangeable molds
Plastic bottle manufacturer Quality Container (Ypsilanti, MI) introduced a "modular" injection blow-molding process that uses interchangeable mold components so that a given bottle size can take different neck finishes, from 33- to 48-mm in diameter. It accommodates high-density polyethylene and polypropylene resins.
The beauty of the process, says its developer Tony Salemi, "is that custom injection blow-mold tooling can be developed at extrusion blow-molded costs." QC estimates that conventional injection blow molds typically cost between $10ꯠ and $15ꯠ per cavity. "This process can create the molds at about half the price," adds Salemi, one of the company's founders.
To bring these bottles to the marketplace, QC purchased an injection blow-molding machine from Uniloy Milacron (Manchester, MI). "We modified portions of the machine where the preforms and bottles are created," notes Robert Bell, QC's vice president of sales and marketing.
The bottle maker serves pharmaceutical, nutraceutical and personal care markets. Bell tells Packaging World that a major pharmaceutical firm is currently conducting "stability testing" on bottles produced via QC's modular process. He would not identify the user.
See sidebar to this article: OMAC at CMM