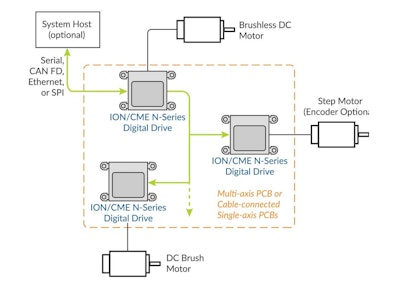 Performance Motion Devices, Inc. (PMD), a provider of motion control ICs, modules, and boards, announced the availability of ION®/CME N-Series Digital Drives, new members of the ION Digital Drive family that provide high-performance motion control, network connectivity and amplification.
N-Series ION digital drives feature a patented, ultra-rugged PCB-mountable package with three power output levels – 75, 300, and 1,000 watts. All ION/CME N-Series Digital Drives support Brushless DC, DC Brush, and step motors.
ION/CME N-Series Digital Drives provide profile generation, servo compensation, stall detection, field oriented control (FOC), electronic camming, and many other motion control functions. Additional features include support for Ethernet, CAN, serial, and SPI (Serial Peripheral Interface) communications, and support for quadrature, sin/cos, and BiSS-C encoder formats.
"As the motor control drives are becoming smaller and smaller, you're starting to see them being used in more portable and variable medical applications which are battery operated," explained Prabhakar Gowrisankaran, vice president of engineering & strategy at Performance Motion Devices, in his tech talk at MD&M BIOMEDigital 2021. N-Series Digital Drives represent a good starting point for companies developing new portable applications.
Design examples
Gowrisankaran offered a few examples of applications for the technology, including centrifuges and handheld stents. "Another example we see in terms of pipette control and medical sampling is a gantry… in this case, there are three N-Series IONs in a hierarchical structure. The host talks to one of the drives and then there are two drives on the backend in your virtual network." Another application the company recently worked on is a robotic arm for surgical applications. A company can create a common module and place these drives at each axis of the robotic arm, meaning that the encoder, motor, and cabling stays local to the axis, ultimately making the wiring simpler, lowering the weight of the overall system and making maintenance easier, he said.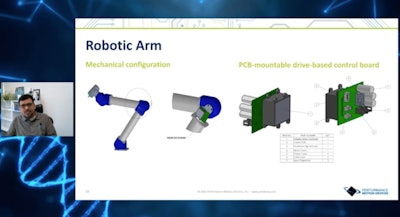 Benefits of ION®/CME N-Series Digital Drives include:
Significant Reduction in Development Time – To create a complete ready-to-go control solution, engineers only have to select their desired motor type and power level, and install on a simple interconnect board with their choice of connectors and form factor.
Flexible Connection Options – ION N-Series ION Digital Drives are easy to plug in and connect, supporting a range of communication interfaces including CAN, Ethernet, RS232, RS485, and SPI.
Small Package, Big Power – Despite their small size, measuring only 1.48"x1.48"x0.66" (38 mm x 38 mm x 17 mm), N-Series ION Drives can drive Brushless DC, DC Brush, and step motors with up to a Kilowatt of continuous power output.
Fully Programmable – At the core of every ION/CME N-Series Digital Drive is PMD's powerful motion control language called C-Motion®. This award-winning language gives engineers the ability to write code and share across all their machine designs.
"Beyond their impressive technical features, the N-Series ION drives have a revolutionary all-in one design approach that allows the creation of fully custom multi-axis motion control boards in weeks, rather than months or even years," states Chuck Lewin, CEO of Performance Motion Devices, Inc. ION/CME N-Series Digital Drives are available immediately and are priced from $209 in quantity depending on motor type controlled and power level.
An accompanying Tech Talk, Next Generation Motor Drives Power High-performance Portable Medical Application Designs, was held at the MD&M BIOMEDigital 2021 Virtual Event, available on-demand for registered attendees.
Companies in this article