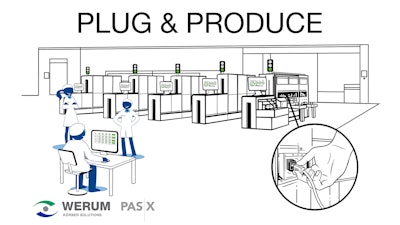 GE Healthcare is among the first customers that will implement Werum's Plug & Produce solution. At GE's manufacturing site in Uppsala, Sweden, the life science company will use the new approach to integrate the automation and equipment level to Werum's PAS-X MES for the production of a chromatography medium.
Vertical integration is a fundamental prerequisite for the implementation of many Industry 4.0 solutions. To enable fully connected pharmaceutical production, Werum IT Solutions is launching a new Plug & Produce solution.
Plug & Produce allows fast, easy integration of machines and automation systems into a pharmaceutical production environment, which was previously a complex, time-consuming and unproductive task. With Plug & Produce all it will take is connecting new equipment to Werum's PAS-X Manufacturing Execution System (MES)—just like inserting a USB flash drive into a laptop.
This is possible because the machine on the shop floor and the PAS-X MES software communicate directly via Werum's new standardized messaged-based interface. It allows an exchange of structured data and ensures that PAS-X MES and a new machine or automation system speak the same language.
What makes Werum's Plug & Produce unique is that it is an open, completely vendor-independent solution: Pharmaceutical and biopharmaceutical manufacturers can use it with any smart equipment such as filter integrity testers and analytical test devices as well as with DCS or SCADA systems.
Together with partners, vendors, pharma companies and organizations like ISPE, Werum is collaborating to establish a message-based interface as an open industry standard, which will be included in Werum's PAS-X MES software in the future.
Drug manufacturers benefit from a lower engineering, configuration and qualification workload. The installation is less prone to errors and project run times are highly reduced.
Compared to before, the workload for integrating a new machine into the production environment can be cut by up to 75 percent, in other words, the workload will be merely a quarter of what it used to be.
Companies in this article