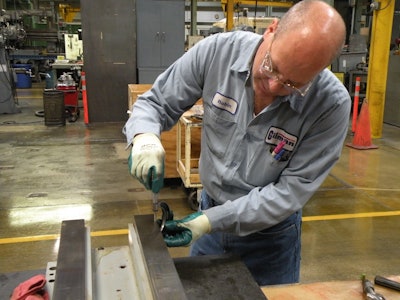 Gilman USA featured its custom-engineered spindles, slide stages, and service offerings at the Automation Technology Expo West Show in February at the Anaheim Convention Center.
Gilman's engineered products are used in applications and industries including medical, automation, packaging, assembly, motion control, and others. The company designs customized spindles and slides for value-minded engineers.
Gilman is also known for its spindle and slide repair. Customers can often save as much as 40% by having their spindles and slides repaired as opposed to purchasing new, and those key parts can be back in service typically in less than a week.
Gilman, previously known as SKF Precision Technologies, was purchased Sept. 13, 2011, by Christopher Hetzer, Mark Ziebell and Michael Weiland. The three owners, along with the company's nearly 40 employees, have an average of 22 years of industry experience.
To help interact with its customers, Gilman last year launched a new Web site that features a streamlined look to its navigation with its three most popular search tabs: spindles, slide stages and service, prominently displayed for easy access.
Companies in this article