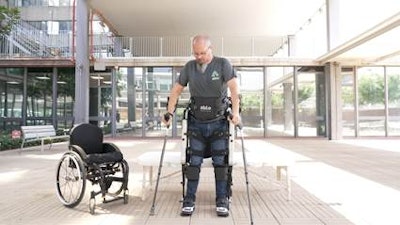 MassRobotics has selected the participants in the Healthcare Robotics Startup Catalyst Cohort II. They are: Acumino, Robot on Rails, Able Human Motion, Andromeda Robotics, Unlimited Robotics, Maestro Surgical Robotics, and Zeta Surgical. The Healthcare Robotics Startup Catalyst is designed and led by MassRobotics, along with Festo, Mitsubishi Electric, Novanta, and Mitre.
The MassRobotics Healthcare Robotics Startup Catalyst program advances healthcare robotics companies by providing the connections, guidance, and resources they need to grow and succeed. Each startup is matched with an experienced executive mentor for a six-month period during which the pair works closely to address core needs to help the startup accelerate its scaling process. The Catalyst Program began in 2021, supporting four startups mentored by MassRobotics and Festo, as an initiative to support healthcare initiatives during the pandemic.
"We are thrilled to see such a diverse and talented cohort of startups tackling healthcare robotics challenges be part of this program. They have a passion for improving people's lives, and they are not shying away from 'tough tech.' The teams are global, with gender and racial representation. This is what we want to see more of in tech!" says Nissia Sabri, VP of engineering at Novanta.
"We are delighted to be able to mentor and assist the selected startups in accomplishing their milestones. We are grateful to Mitsubishi Electric, Novanta, and Mitre for joining the committee. It is thanks to you all that we are now able to expand our program to support twice as many startups in Cohort II. We wish all the selected startups much success and look forward to contributing towards reaching their goals," says Nuzha Yakoob, head of technology & innovation at Festo.
The companies were chosen from a field of worldwide applicants who proposed solutions in clinical care, public safety, laboratory and supply chain automation, out-of-hospital care, quality of life, and continuity of work and education, and healthcare professionals' training and support.
"We are proud of the support that the MassRobotics community provides to the healthcare industry in forwarding robotics innovation and entrepreneurship. The program rests on the partner organizations and has enthusiastically piqued interest from members of our Healthcare Robotics and Biotech Working Group, including hospitals, physicians, pharmaceutical companies, universities, and other corporates," says Juan Necochea, manager of strategic partnerships at MassRobotics.
Companies in this article