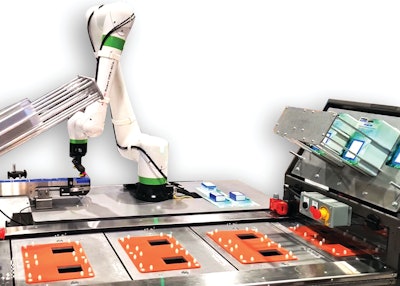 Just as COVID drove the growth of e-commerce, so too did it drive a number of "essential businesses," healthcare being primary among them. Before the pandemic, the pharmaceutical industry had been lagging in its adoption of automation and robotics, due to the highly regulated nature of the business. But the pandemic resulted in a massive acceleration in the rate of adoption of pharmaceutical robots.
---
---
According to A3 – The Association for Advancing Automation, orders for robots from North American life sciences companies increased by 69% in 2020 compared to 2019. And this growth shows no signs of stopping. A report from Grand View Research predicts that the global market for pharmaceutical robotics will reach $357.9 million by 2030, with the market expected to expand at a CAGR of 9.2% from 2022 to 2030. Notes the report, this growth can be attributed to several factors, including the ability of automated systems to rapidly and safely perform repetitive tasks such as moving test tubes and fluids, counting pills and packaging them, and inspecting for quality control. Grand View also notes that, based on application, the picking and packaging segment dominated the market in 2021, owing to a rise in demand for personalized packaging.
Meeting this need for picking and placing of pharmaceuticals are two new robotics systems: a cobot version of the TaskMate Robotic Systems Blister Loader from ESS Technologies and The Robotic 3D Control and Picking Solution (3D CPS) from aseptic processing provider Steriline. ESS Technologies' existing line of TaskMate Robotic Systems integrates Fanuc multi-axis robots and ESS-designed end effectors to create pick-and-place solutions for a variety of applications. The new blister-loading system uses a Fanuc CRX-10iA cobot, a 10-kg-payload model with a 1,418-mm reach that is equipped with sensors and force controls to immediately stop the cobot's motion if it contacts anything solid.
According to ESS, misfeeds, incomplete loading, and empty blister feeding all represent sources of waste and line downtime for blister packaging machines. The Fanuc cobot is equipped with line tracking and vision to ensure careful blister loading, minimizing machine faults.
ESS can design a single robotic cell to handle a range of products, depending on the manufacturer's requirements. It can then create EOAT that can pick multiple products at a time, with a spreading feature to populate multiple blisters with each cycle. By incorporating quick-release pneumatic connections and thumbscrews, a robotic end effector can be quickly removed and replaced with a new EOAT to handle a different product. Explains ESS, this has significant advantages in packaging lines that use shorter runs for independent SKUs.
---
---
All TaskMate Robotic Systems are designed to be compact so they can be integrated seamlessly at the blister loading station to keep required floor space to a minimum. The robotic blister loader can be integrated with new blister packaging machines, or it can be used with existing blister packaging lines to automate previously manual loading processes.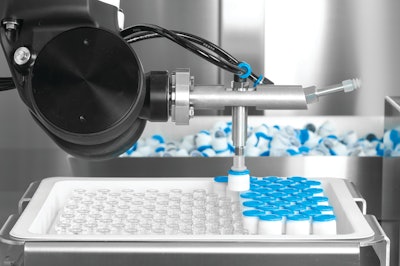 Another picking solution, this one designed for stoppering and capping primary pharmaceutical packaging, was introduced by Steriline at PACK EXPO International last year. The Robotic 3D Control and Picking Solution (3D CPS) includes both robotics and vision systems and was developed in partnership with ISS – Innovative Security Solutions, a spin-off company from technical university Politecnico di Milano in Europe. The solution is particularly suitable for capping and stoppering packaging of small batches that require an aseptic environment, such as in personalized medicine and the production of cell and gene therapies.
As Federico Fumagalli, chief commercial officer at Steriline, explains, the company continues to innovate with robotics in its aseptic filling machines, developing their robotic software in-house to offer intelligent motion and activities that are often performed manually. He says that in many cases, a robotic arm will move from A to B and B to A, but this application shows how robotics can be programmed by a 3D camera that scans, finds a good trajectory to move in, picks up the stopper, and places it on the vial.
The Robotic 3D Control and Picking Solution is a mechatronic component equipped with a vision system that can detect tools within a defined area and adapt its function based on the relative feedback. It is composed of a robotic arm, a picker, an infrared ray (IR) stereoscopic vision system, and software for planning trajectories, accessing the recipe database, and interpreting the input data coming from the sensors.
---
---
During operation, the robotic arm moves the picker throughout the working area, the dimensions of which can be modified based on the length of the levers. Next, sophisticated algorithms generate trajectories to allow the picker, located at the end of the arm, to reach an item, pick it up, and then move it to its final destination. These paths are generated based on the information received by the 3D vision system, which uses a stereoscopic vision-based measuring technique in which an IR source emits an IR light pattern that is visible to visual sensors and not to the human eye. The scattering of the light is detected, acquiring a profile of the scene. This technology allows the system to autonomously generate reliable trajectories for simpler and more linear movements and avoid any collisions with the surrounding environment.
"In the pharmaceutical industry, limiting the release of particles during sensitive processes makes the difference because it reduces the risk of contamination," says Fumagalli. "With this in mind, we looked for different solutions on how to remove the main parts that increased the dispersion of particles during, in this case, the stoppering and capping processes. So we chose to replace the hopper, the vibrating cup, and the linear slide with robots combined with a vision system."
The partners also sought to simplify format changes. "Flexibility is definitely an added value of robotic solutions" adds Alessandro Caprioli, partner at ISS – Innovative Security Solutions. "In fact, with standard solutions, the production process and the relative mechanical parts need to be reconfigured in order to manage or handle a different container. With a robotic application, you generally only need to set up a different recipe via the software." PW

Companies in this article