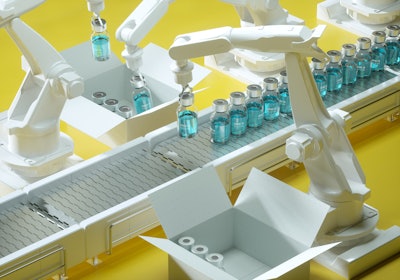 Since making their first appearance in the packaging industry, industrial robots have had a mesmerizing effect, with their human-like movements, speed, and efficiency. They have also been intimidating, due to their sophisticated programming requirements and high investment costs. Over the years, however, not only have robots become much easier to use, but they have also become much more affordable as well.
In the last couple of years, robots for packaging applications have also taken a great leap forward in technological advancements, making them even more of a marvel. Their ability to work alongside humans, use advanced 3D vision to identify objects, even when they're positioned in a haphazard arrangement, and accurately pick and place them, grip irregularly shaped and delicate objects, and carry out dynamic tasks through the collection of data and machine learning guided by Artificial Intelligence has opened up a whole new world of applications in packaging.
In Part II of Packaging World's 2022 Robot Report, we explore some of the new technologies that are enabling increasingly complex packaging tasks with accuracy and efficiency, shaping the future of robotics in packaging.
Read the sections of the report here:
OEMs Bring the Benefits of Cobots to Palletizing
Higher payloads, an extended reach, ease of programming and operation, and greater security features allow new cobots to be used for palletizing operations.
Smarter Robots: AI, Machine Learning, and 3D Vision
New robotic technologies under the artificial intelligence umbrella make make it possible to now automate complex packaging tasks.
Advanced EOATs and Easier Changeover Speed Robot Adoption
Versatile suction-cup and human-like gripping end-of-arm tools, as well as a solution for quick EOAT changeover are among the newest components advancing robotics in packaging.
AMRs Offer Transport Efficiency in Packaging Operations
Autonomous mobile robots are making inroads into packaging plants, where they are being used to transport materials and load machines; some can even be integrated with cobots.
Delicate Strudel Dough Picked and Packed in Enclosure-Free Robot Cell
At Weinbergmaier GmbH in Vienna, Sissi and Franz—as their human operators have quaintly named the two Stäubli robots—pack high-quality strudel dough in perfect synchronization within a cycle time of 1.5 sec.
---
---