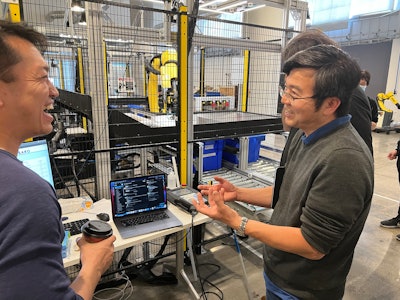 It's always fun to follow fast-growing new consumer brands as they level-up on their packaging technology. Just three years ago, Packaging World first reported on packaging operations at Zenni Optical, a challenger eyeglass brand with a unique Direct to Consumer (D2C), e-comm-based business model.
The company was born in 2003 when its founders identified the outlandish difference between manufacturing cost and unit price among existing prescription eyewear channels and sought to inhabit an as-of-yet unoccupied niche. The result was a volume supported D2C model with low entry prices. The entry price for prescription glasses is $6.95, with select styles on the higher end of the scale at $49.95. Children's glasses begin at $6.95 and go up to $45.95.
Back in in 2019, semi-automatic poly baggers from both PAC Machinery and Sharp Packaging Systems by Pregis were the latest and greatest in packaging tech at Zenni's San Francisco Bay-Area fulfillment center, and that equipment is still going strong.
---
What we thought deserved an update has been the company's recent plunge into robotics and its announced partnership with OSARO, a robotics developer that deploys advanced robotics for e-commerce.
The project will automate the 'last meter' of Zenni's fulfillment center in Novato, Calif. Three OSARO robotic bagging systems will take on the responsibility of readying eyewear orders for shipment to U.S. customers.
According OSARO, the deployment is the first time a robot will be assigned the responsibility of working with an automated mechanical bagging system to ensure a customer's unique order is placed into the correct bag for shipment. OSARO has partnered with Pregis, who already has bagging equipment in the Zenni facility, to deploy the robotic solution. According to Zenni, OSARO's superior vision and grasping technology enables the robot to rise to the challenge of this piece-picking task, which is important to the company since each eyeglass order is associated with a customer's prescription.
"We are focused on quality and innovation," says Simon Goh, Director of Distribution and Facilities at Zenni, which has surpassed 45 million pairs of eyeglasses sold over 19 years of growth. "With a mountain of online orders and a persistent shortage of labor, we looked to OSARO to take us to the leading edge of technology to be sure our customers receive fast and accurate processing."
"The stakes are high here: special-order, high-value items that must be bagged and labeled correctly to ensure they are sent to the right customer," adds Derik Pridmore, CEO of OSARO. "Our extensive experience in other e-commerce production environments, coupled with our machine-learning capabilities, enables our robotic bagging system to meet customer production targets and to deploy workers onto more important tasks."
Break-even and beyond
Goh has always had his antennae up for new packaging automation, hence the addition of poly baggers three years ago. But when he looked at his packaging equipment fleet, it still bugs him that he was only able to automate away about half of the human labor tasks needed to get an order out, from the time when they were fully manual.
Goh is a numbers guy, and his personal metrics for continuous improvement and building efficiency into a process revolve around reducing friction and reducing the number of steps needed to before an operator starts using the packaging machine.
Prior to the packaging equipment, that constituted have total of nine steps—nine discrete tasks an operator needed to accomplish, correctly and in a certain order, to successfully send out an order. Once Zenni switched over to use the poly bagging packaging equipment, the company reduced required human labor to only five steps per order. Now with this OSARO robotic cell, he expects to reduce human tasks down to only two steps. But at Zenni's workflow speeds, this tech wasn't ready for prime time until recently.
"We intend to bring it all the way to full automation," he says. "So, we never stop looking; we always check out the new technology every year. But three years ago, the technology wasn't ready. I saw robotic solutions in the past, and everything was so slow; it just couldn't keep up with our speed requirements. But every year, I check. And we have bagging machines from Sharp Packaging Systems, who is working with OSARO, too. Sharp make the introduction, OSARO came here to visit us, and we realized how far the technology had come."
Crunching the ROI numbers, Goh's cost calculation reflected that the OSARO robotic installation would hit a break-even point when compared to the existing cost of human labor performing five steps at speed. Zenni could do it either way—with people or with robotics—and still spend the about same amount. But the cost of labor is pointed up, and the cost of technology is pointed down, so the break-even point for Goh the time to strike and make a move. And as robotics manufacturers like to point out, a robot never takes a sick day or a vacation.
"We are not actually saving money at this point, but we see the cost of technology going down over time. And then labor cost has been going up every year," Goh says. "I think it's a breaking-even point right now, so that's the time to switch to this technology and it can only get more cost effective from here."
The project will optimize the use of a pick-and-place robot to perform a complex task that demands visual acuity, precision, and dexterity. Zenni has a team of workers capable of handling 10 orders per minute and accuracy is key to making sure that the right order gets to the right customer. Deploying robots to handle e-commerce processing also mitigates labor turnover and staff shortages that are challenges in the rapidly growing e-commerce fulfillment sector.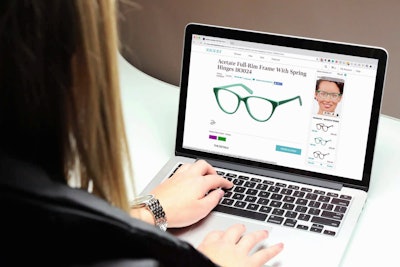 "We knew we needed an integrator like OSARO for this kind of project anyhow, because we cannot program a robot to do what we need to do, so there's no way we can work directly with the robot manufacturer," Goh says. "And OSARO is a company where the speed and the accuracy is pretty impressive, so it made sense. They can pack our cases with the accuracy, the position, and the speed we require for our operation. Also, the Sharp baggers are actually integrated with the OSARO robots, and also our software, too."
From five steps to two
With the robots being deployed in October of 2022, nothing has changed at Zenni, at least not yet. Under the current system, each online order generates a pair of eyeglasses to be manufactured and associated with a barcode in China, then shipped to the Zenni facility in Novato. Each morning, operators open their shipment of freshly manufactured glasses, scan the bar codes, and begin completing the order. This involves first placing the glasses in a protective case, then closing the case and placing in a poly bag via one of the PAC Machinery or Sharp Packaging Systems baggers.
"Right now the five steps are handled by a human operator," Goh says. "But when we deploy the robot, we will have an operator to put the eyeglasses inside a case, and then put the cases into a bin. But then, the robot will work with the bagger, a Sharp MaxPro-18, to take care of the other three steps… actually, that's now four steps, because we are adding more marketing material into the packaging. So actually the robot is going to take care of one more step that our human operators never had to do before."
Once the eyeglasses are in loaded into cases and collected in batches in bins, the robot will pick up each protective case and carry it to a dimensional scanner, to identify each order by barcode.
"Once the barcode is scanned, a shipping label will be printed by the packaging equipment and the robot will drop the case with glasses into the [poly] bags. And then there will be some mechanism to drop a few marketing materials, like inserts," Goh says.
Notably, Zenni sometimes co-markets with aligned brands—for instance with meal kit producers like Blue Apron or Hello Fresh. Zenni also has its own marketing materials and value-adds for customers. For instance, the company includes a pupil distance [PD] ruler for consumers to check their unique distance from pupil to pupil, a distance that maps onto and determines the fit of their glasses. The robot will have a mechanism to drop this kind of marketing material into the poly bag. All told, that's four distinct steps that human operators don't have to do.
Poly bagged mailers with shipping labels are then dropped onto a conveyor belt for an operator to collect and prepare for mailing. Goh and Zenni are considering adding another conveyor belt to consolidate all of the ready-to-ship packs, have them dropped into a post office container.
Robot specs and changeover
The robot used for this application is a six-axis robotic arm that operates with a tool changer kit, built by OSARO, carrying different vacuum-based end effectors for optimal gripping geometry.
"We chose the FANUC six-axis model M10iD/12 robot arm because it had the greatest reach with the smallest footprint and plenty of payload capacity to effectively operate in a robotic bagging system cell," says Bryan Yong, Senior Solutions Engineer at OSARO. "It also integrates easily with our vision and control software."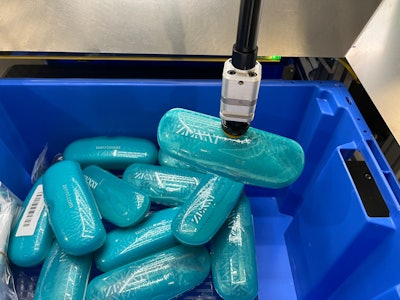 "This robot actually can change the [end effector] head, and the changing speed is really fast," Goh adds. "The robot has the vision to see what's in the bins. It determines what kind of material it needs to pick up, and it selects the head that is best for picking up that kind of material."
At the moment, the Zenni eyeglass cases being picked and bagged by the end-of-arm tool will all be made of the same case material. That said, marketing material substrates to be co-bagged with the eyeglass cases will certainly vary. Also, perhaps the brand may shift to a limited run special offer with another case style or material. Or, down the road, Zenni may launch a differently dimensioned SKU for eyeglass cases designed to carry two pairs of glasses, or sunglass clip-ons alongside prescription glasses. If (or when) any of these occasions occur, the robotic cell will have tool-changing capabilities already on board. [Watch OSARO video above to see the tool-changer kit in detail.]
"But what's impressive with the robot is that it changes [the end-of-arm tool] on the fly," Goh says. "And it takes only about maybe one or two seconds. The robot will determine the next tool each time. It simply goes to the tool changer, picks the right tool, and then it will do it again for the next pick. I mean, I saw quite a lot of robots at trade shows over the years, like PACK EXPO Las Vegas in 2019, and it took a long time for the robot to determine what tool to use. But when I was visiting OSARO, I could see that this robot can swap out up to about 10 different tool heads, all designed for different kinds of material. Just pick, change your head, bag your next product, then do it again. It's very good, and very fast."
What's next
"From my perspective, what OSARO is doing that makes them stand out is the speed," Goh says. "Because I know that other robots can do the same thing, but just when I look at their speed, it wasn't that good. But OSARO, they can do it. The vision equipment and software can see the style, and determine what kind of material and also the way they're designed, they can actually pick anything with the right tool. So the speed is making the difference."
With increasing demand for D2C eyeglasses by Zenni, continuous improvement always on his mind, and labor getting scarcer and more expensive, Goh is already thinking about his next forays into automation.
"Even with this new installation, we still need a human to pack the eyeglasses into case. And this is still about two steps. If there's a way, I really want to automate that piece also," Goh says. "We started as fully manual, progressed to half automated, and now are almost 80 or 90% automated. One day we will be 100%" PW
Companies in this article