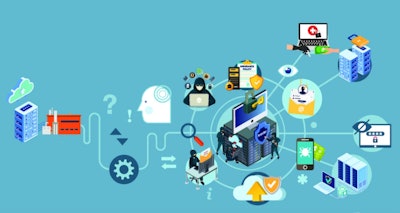 PMMI
Pervasive new technology increases entry points for cyber attacks. Discover cybersecurity solutions at PACK EXPO International (Oct. 23-26; McCormick Place, Chicago).
The U.S. government's Cybersecurity and Infrastructure Agency issues new alert about attacks targeting ICS/SCADA devices.
---
---
As cyberattacks increase and evolve, research for solutions must do the same. It's critical that the medical and pharmaceutical manufacturing industries get involved.
The new April 2022 guidance deals with quality system considerations and the content of premarket submissions for members of the medical device industry, as well as Food and Drug Administration staff.
From regulatory compliance and configuration security to potential downtime impacts, Gabe Authier of Tripwire highlights the major issues to address when evaluating cybersecurity software.
Small and medium-sized manufacturing operations are now the companies that hackers and bad actors target the most.
More than 80% of industrial companies surveyed by Claroty have experienced ransomware attacks—nearly 50% of which impacted production operation systems.
Five steps to protect your organization and supply chain against the political and literal warfront.
While automation is driving physical changes to pharmaceutical production and packaging processes, another significant shift is occurring in the accumulation and use of data. In a recent survey, 70% of pharmaceutical companies stated that cybersecurity is currently one of their largest operational concerns.