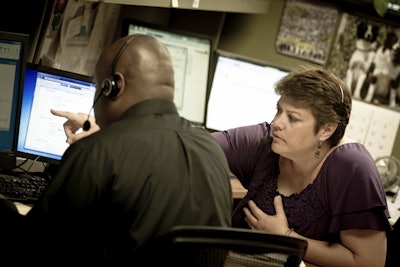 LSI Industries Inc. is a lighting, graphics and technology manufacturer with commercial, industrial and multi-site retail customers throughout North and Latin America.
Since 2006, the Cincinnati-based company's Lighting Division has leveraged TEKLYNX' barcode label design software, LABEL MATRIX, to design and print labels in three of its facilities. As the lighting division continued to expand its product offering and customer base fueled by rapidly growing demand in Light-Emitting Diode (LED) lighting, it sought to make its labeling operations more efficient.
"Over the years, we had developed thousands of labels that required a serious commitment in time and effort to maintain," explains Tom Cantrell, Manager of Product and Manufacturing Support at LSI Industries Inc. "We were looking to reduce the time spent maintaining these files."
In addition to reducing costly file maintenance time, LSI Industries Inc. was looking for a labeling software that could integrate with its existing JD Edwards Enterprise Resource Planning (ERP) System while addressing its growing labeling complexities. Specifically, the LSI Lighting Division needed to:
Manage a vast and growing number of independent label files: the LSI Lighting Division had approximately 10,000 labels, 6,000 of which required individual file maintenance.
Efficiently support a multi-user environment: up to six different employees were designing and managing labels while up to 12 different employees across various locations were responsible for accessing and printing them.
Provide product traceability: continued sales growth meant it was increasingly important to have product visibility throughout the supply chain.
Print labels from multiple locations: the LSI Lighting Division wanted to streamline operations across its facilities to be as efficient as possible.
Proactively manage product safety and compliance requirements: ongoing and emerging compliance and safety requirements drove the need for an agile labeling environment.
Comply with international shipping requirements: continued international growth required that its labels comply with a diverse and ever-changing list of international shipping requirements.
"Our primary goal was to eliminate the manual maintenance of a growing number of static label files," says Cantrell. "We were hopeful that integrating our labeling software with our existing ERP system would reduce the labor required to support this process."
Reaching its labeling goals
Cantrell and his team partnered with TEKLYNX and determined that TEKLYNX' barcode label design software, CODESOFT, combined with TEKLYNX' label printing automation product, SENTINEL, would accomplish the lighting division's desired labeling improvements.
"We were eager to help long-time TEKLYNX customer LSI Industries Inc. update its labeling software. As companies grow and business needs change, so do labeling needs," explains Cory Catterall, TEKLYNX Enterprise Sales Executive. "We knew there was a tremendous opportunity for the LSI Lighting Division to realize benefits from integrating its labeling solution with its existing ERP system."
TEKLYNX partnered with LSI Industries Inc. throughout the implementation process, including a proof-of-concept trial and custom development work to ensure that the barcode labeling software would not only meet the lighting division's operational intricacies, but also help the company work better.
One of the most critical components of helping the lighting division work better was successfully integrating TEKLYNX' software with LSI's existing JD Edwards ERP system. Integrating the two systems meant that LSI could eliminate static label files—along with the associated ongoing maintenance of those files—and replace them with database-driven templates.
"The TEKLYNX team's support throughout the implementation process was outstanding", says LSI's Cantrell. "They were both patient and responsive, which proved invaluable as it allowed our team to work through implementation at our own pace."
Results
Labeling efficiency and control was the essence of what Cantrell and his team set out to accomplish by implementing CODESOFT and SENTINEL in LSI Industries Inc.'s Lighting Division. "We wanted to regain control of the process of printing labels and not be dependent on an outside process," says Cantrell. "Our implementation of CODESOFT and SENTINEL has allowed us to convert static files to database-driven templates that are linked to our ERP system. This has reduced our file maintenance, improved our processing speed and allowed us to standardize our process for multiple areas."
The LSI Lighting Division's successful implementation of CODESOFT and SENTINEL positioned it to gain efficiencies and control of its labeling process by addressing its challenges, leading to the following improvements:
Eliminated 6,000 static label files by replacing them with database-driven templates, reducing both ongoing label file maintenance by 80% as well as process time from days to minutes.
Added ability to produce needed labels in-house and reduced price per label and labor costs.
Increased label printing speed by 10% by replacing a labor-intensive custom interface environment with a browser-based system.
Access to over 100 barcode symbologies improved its ability to comply with industry standards.
Ability to print labels to a virtually unlimited number of printers improved ability to support its multi-user, multi-facility environment and provided the necessary bandwidth to support future growth.
Continued ability to integrate foreign language within label design to accommodate international shipping requirements.
Companies in this article