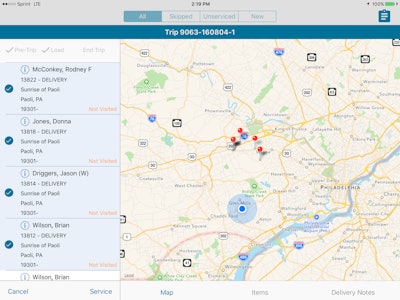 The connected logistics market worth will reach US$20.46 billion by 2020, predicts MarketsAndMarkets in a recent report.
The report says, "With the adoption of network-enabling technologies such as RFID, cellular and satellite networks and integrated IoT platforms; logistics vendors and industrial enterprises are focusing on the re-engineering the entire logistics and warehouse management process. Internet-enabled things will bring various benefits to both logistics vendors and industrial enterprises by facilitating or simplifying the inventory and workforce management, fleet tracking and order management process."
Gregg Timmons, CEO at Apacheta, a mobile business solutions provider, believes, "We live in a world that values instant gratification, thanks in part to the majority ofoperational systems working online and through the cloud.
"However, many healthcare delivery companies still rely on paper-heavy systems, or use expensive, bulky technology to manage logistical concerns that can take weeks to process. In order to help catch them up with modern times, we integrated our software into the low-cost mobile technology that's already taking residence in users' pockets. By using our automated workflow mobile solutions, our partners experience a four-to-one return on investment, as well as significant improvements to their business practices, bottom line and customer service efforts."
Apacheta customer QMES, LLC is a New York-based provider of medical equipment and supplies and a qualified member of The MED Group, a subsidiary of Managed Health Care Associates, Inc., a group purchasing, business solutions and network management organization. QMES VP Ben Gissinger points out, "Since we began our partnership with Apacheta in March 2015 we have seen a significant increase in our bottom line by streamlining operational processes and improving the way we provide care to our customers. The Apacheta team has been a true partner in our success. They listen to the challenges we face in the field and develop solutions tailored to meet these needs."
Apacheta says its software can be installed on commonly available Android and iOS devices, communicating with cloud-based services. Working in realtime, the software aims to allow customers to schedule and monitor a delivery driver's status, track inventory, streamline the billing processand ultimately improve patient care.
Field workers and delivery driverscan benefit from Apacheta technology by obtaining signatures and collecting patient data all in one place, as opposed to filling out stacks of paperwork to be turned in at the end of the day. The information they gather is automatically entered into their system of record and recorded for future reference.
In the healthcare space, says Apacheta, specifically in post-acute care, mobile solutions offer drivers the ability to focus on patient care, as opposed to regulatory paperwork, increasing the amount of positive outcomes.
"The shift in the mobile logistics market from expensive upfront hardware and software to subscription-based cloud services and low-cost BYOD handhelds fueled our rapid growth across the board, but particularly in the HME/DME industry," says Timmons. "Modern mobile logistics solutions should not be only available to large companies with robust budgets. Instead, we put enterprise-level mobile solutions in reach of businesses of all sizes, allowing them to reap the benefits of improved operational efficiencies, customer satisfaction and logistic transparencies."