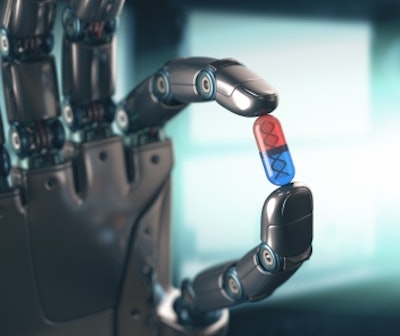 3D printing technology can solve the healthcare industry's need for the efficient production of complex and personalized products.
However, key obstacles include overcoming government regulatory hurdles and potential counterfeits.
Many of the industry's market majors are interested in adopting 3D printing to customize drugs, active pharmaceutical ingredients (APIs) and medical devices, driving an era of personalized medicine.
Pharmacy distribution of drugs represents the field most likely to be disrupted by 3D printing due to the ease of obtaining customized dosage quantities of medication.
These are amount the findings of "3D Printing for Healthcare Applications," recent research from Frost & Sullivan's TechVision (Medical Devices & Imaging) Growth Partnership Service program, a practice focused on innovation, disruption and convergence.
"Using 3D-printed tissues for drug testing, clinical trials and toxicity testing will have a huge impact in the pharmaceutical sector, as they will help eliminate costly animal testing and use of synthetic tissues," reports Madhumitha Rangesa, TechVision Research Analyst at Frost & Sullivan. "However, traditional, large-scale manufacturing is still more economical for mass production of drugs; 3D printing will be viable for small-volume production in orphan diseases."
The TechVision research finds that there is a slow shift in pharma toward continuous manufacturing (CM), which can shrink production time to less than 10 days.
When this practice is merged with 3D printing, pharma companies can develop various dosage forms for a specific, customized demographic. 3D printing will also bring about a change in the structure of the medication, making it easier to swallow or dissolve, and more attractive to children by printing them in any shape and size.
Click here for complimentary access to more information on this analysis and to register for a Growth Strategy Dialogue, a free interactive briefing with Frost & Sullivan's thought leaders.
Currently, the most researched and popular tools for the development of drugs/medication using 3D printing techniques are thermal inkjet printers, which can be used with powder-based medications. The tablets/pills manufactured can be customized to the patient's requirements by structuring them layer by layer, with precise dosage of each ingredient, at a granular level.
The use of 3D-printing technology in designing and prototyping will also tremendously reduce material wastage.
Despite all the progress being made, the pharma industry is facing challenges in securing approval from various government regulatory bodies for medical application of 3D printing. Furthermore, there are high chances of counterfeiting in the market.
"Current products being developed using 3D printing are largely in applications areas such as medical implants, surgical guides, prosthetics, orthotics, orthodontics and anatomical models for surgery," notes Rangesa. "Furthermore, a wealth of opportunities is opening up in future healthcare applications areas such as creation of bone structures, airway tracheal splints and medicine."
Companies in this article