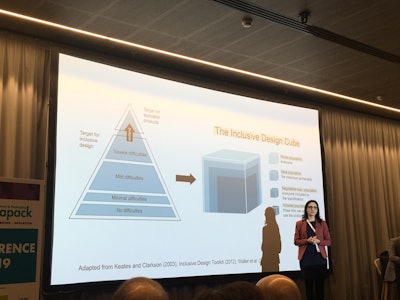 With an exhibition, innovation gallery, awards and learning opportunities, Pharmapack Europe, held Feb. 6-7 in Paris, offered the latest in pharmaceutical packaging and drug delivery systems. Here are a few key takeaways:
Connected devices
In 2019, despite the fact that connected drug delivery devices are available and that adherence monitoring is possible and could drive demand, the adoption rate of these products is slow. According to Merck's David Braun, this is due to a number of factors including complicated user interfaces, high product costs, lack of patient awareness/promotion in the health system and lack of a proper ecosystem around the devices.
Braun also pointed out that adherence reminders have to get smart. "If we don't use artificial intelligence, the patient will receive a reminder when they are busy, such as when they're driving the kids to school," he said. Merck partnered with Medisafe, and developed an app that can send the patient adherence reminders at the "right time," such as a few minutes after they arrive home.
He added, "We want to boost adherence and create value. When data is sent to a mobile phone, what about the stakeholders… will the physician have time to look at this alert? Is there support in the healthcare system to observe non-adherence and trigger the patient to take their dose?" If the insurance company sees patients adhere to a drug better, then will they be more willing to pay for it because it boosts outcomes?
He advised attendees that they shouldn't underestimate their data strategy because the data is powerful, beyond sending reminders.Connected devices will be part of daily life but there's a lot the industry needs to do, including being faster to market and adopting technology from the consumer electronics industry. "The opportunity is there. It's not just an opportunity but a responsibility."
Three types of patients
Dr. Giana Carli Lorenzini, Postdoctoral Research Fellow in the Department of Design Sciences at Lund University, discussed the three types of patients:
The pre-user who's just been diagnosed and may be prone to making "naïve mistakes" with treatment

The experienced user, who's already adapted to a routine and packaging

The user-advocate, involved in patient advocacy groups and looking beyond their own care to the community of patients at large
While it's not a reason not to update a package or device, it's important to consider that when changes are made, the experienced user may revert and make mistakes. She is continuing research, working on a post-doc, studying the routines and feelings of seniors. They're sharing their medication use through pictures from home. "Now I'm looking at cases that were successfully developed and what they did to make an inclusive design," she says.
Smart packaging
Where does the smart package fit into the digital healthcare ecosystem? Dr. Alex Cole, Chief Scientist Aurora/Strategic Marketing Analyst at CPI, said, "The whole thing only works if you know the patient is taking the medication. It's the glue that holds it together. The package or device doesn't have to be connected but you have to get that info into the ecosystem."
Everything about pharmaceutical and device packaging is so controlled, from fill levels to storage conditions. But there isn't any environmental monitoring or traceability with the patient. He recounted a story in which a nurse accidentally left a fridge thermometer on top of the fridge, and continued to record a 21°C reading all day. Even though the drugs were safely inside the fridge, the products had to be thrown out.
With smart packaging (and/or connected packaging) and more integrated healthcare ecosystems, Dr. Cole said that opportunities include lower product wastage all the way to the patient, improved adherence, more informed patients, reductions in dispensing errors and reductions in accessibility issues. He mentioned smart blister packaging, such as Med-ic Smart Blister from Information Mediary Corp and Schreiner Medipharm's smart blister package, which generates data in real time when a patient pushes a tablet from a cavity, which may include medication type, extraction time and specific cavity.
As Braun had mentioned, Dr. Cole said that adoption rates are still slow. "We need this massive collaborative approach and we need all the partners to see the benefits." CPI is working with universities and patient groups, pharmaceutical companies and government bodies, looking atways to improve offerings and adoption.
CPI, which develops printable electronics, is looking at ways to use electronics to overcome some challenges by producing technologies that are flexible, capable of high volume production and printable on very thin substrates so that they can be embedded in compact designs.
Disposable electronics?
The elephant in the room when it comes to these high-tech-yet-single-use packaging designs is that we cannot continue to pump electronics into the waste stream. Dr. Cole said that they are also investigating options to recycle these components, and potentially use the connectivity of the designs themselves to reach the patient and help guide them in terms of how patients should properly recycle or dispose of the packaging.
Editor's note: For a roundup of all of Healthcare Packaging's coverage from Pharmapack, click here.>>
Companies in this article