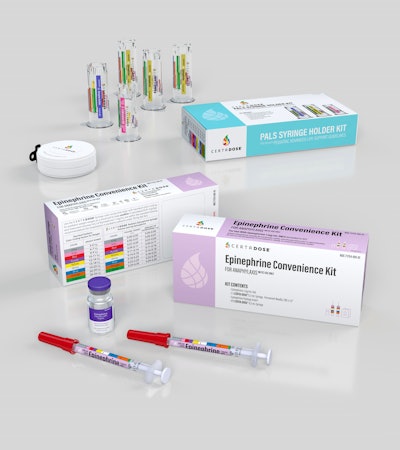 "Each year, 140,000 children are harmed and about 7,000 children die needlessly due to dosing errors by medical professionals," says Emergency Room Doctor Caleb Hernandez. "We want to make it as easy as possible for medical professionals to give patients the correct doses, especially in high-stress emergency situations where a child's life is on the line."
Dr. Hernandez founded Certa Dose, a color-coordinated syringe to provide a simple method to measure and confirm the correct dose for any infant or child. The system, which shows the appropriate amount by weight of a given medication, offers a fast, safe and accurate way to measure children's medication and helps eliminate dosage errors.
Certa Dose's first product is an FDA-cleared syringe for use in the administration of epinephrine to pediatric patients. The company aims to gain approval to sell other versions of its syringe, focusing on high-risk anesthesia or pain drugs.

How it works
The patented syringe eliminates the need to make complex mathematical calculations to determine dosage by weight. It works in two steps: measure and match.
"During many emergencies, there is not an opportunity to obtain an accurate weight," Dr.Hernandez explains, in scenarios such as an active seizure, cardiac arrest, respiratory failure or severe trauma. "Dr. Broselow developed a tape that is used to correlate a child's ideal body weight to length. This system has been used nationwide for the past three decades."
The Certa Dose system is weight-based, so when the child's weight is known, it is correlated with the color chart. Each syringe is labeled with the color zones that match the Broselow tape.
Measure: Healthcare professionals, including doctors, nurses and EMTs, use the Broselow tape to measure a child, lining the end up with the child's head and running the tape next to the child's body to their heels to register an approximate weight and color zone. With standard syringes, this process still requires the user to make conversions (such as from milligrams to milliliters) to deliver the right amount of the drug.

Match: The user matches the patient to the zone on the color scale, and administers the medication to the corresponding color on the Certa Dose syringe.
"Using the industry-standard color-measuring system, Certa Dose allows users to quickly measure a child's approximate weight to determine the correct amount of medication for each child. [The user then matches and fills] the Certa Dose Syringe to the child's color zone," Dr. Hernandez says.
PALS Syringe Holder
The PALS Syringe Holder Kit is a visual aid designed to help clinicians follow Pediatric Advanced Life Support (PALS) guidelines at the point of care when every second counts, particularly in high-stress pediatric resuscitation scenarios where error rates may be higher.
The syringe holders slip over and affix to commonly used Bristoject-style syringes.
The holders are labeled with recognizable color zones that match the Broselow tape. With a compact design to fit tight spaces, the kit—packaged in a colorful carton—includes syringe holders for epinephrine, atropine and lidocaine, as well as baseline reference labels and length-based resuscitation tape.
Increasing efficiency
The system is unique in that it can provide "multi-unit dosing" for children's medications. "Typically a company would have to package multiple products to achieve the safety of a 'unit-dosed' product, as this would be necessary to meet the needs of various-sized patients," notes Dr. Hernandez.
With Certa Dose, manufactures can provide nine distinct unit doses (for each of the nine colors in the Broselow system) from the same size package. This increases accuracy, but also efficiency, as one unit package offers the flexibility to dose a patient in nine size categories.
"We are also a human factors company," he says. "Our technology gives manufacturers and pharmaceutical companies the confidence that providers will give the correct dose during human factors studies, research studies and going through regulatory approval."
Packaging
The company works with multiple firms in producing the compact carton.The initial designs were created in-house with support from HSC TV on carton artwork and branding. Certa Dose uses contract manufacturers to assemble the kits, including SMC Ltd. and PlasTech Engineering Inc.
Industry takes notice
Recently the company's Midazolam Convenience Kit was selected as a JEMS [Journal of Emergency Medical Services] Hot Product from EMS Today 2018.

At October's ENA 2018 (the Emergency Nurses Association Annual Conference) in Pittsburgh, Lauren Ellis, ER Nurse Interim Manager, noted in an in-booth video, "A product like this would be wonderful, it would take the guesswork out of dosing a child," while ER Nurse Danielle Jackson said, "I've been a nurse over 20-something years, and this is something I wish I had 20-something years ago."

Certa Dose has raised approximately $5 million in early-stage funding and received a grant from Johnson & Johnson Innovation for winning its 2017 Quickfire Challenge for advancing safety in a healthcare product, which grants the company access to the company's JLABS innovation site. Inspiring additional confidence in the product's abilities is one investor who is a medical liability insurance provider who pays claims when medical errors take place.
Upon winning the Quickfire Challenge, Joanne Waldstreicher, M.D., Chief Medical Officer, Johnson & Johnson, said that the pediatric dosing system "wasn't only innovative, and it wasn't only that it addressed a serious need, but it also focused on children where there's a significant unmet need. The focus on making an impact on children is one of the key reasons that this new innovation caught our attention. That, and the potential of this system to have a positive impact on health outcomes—which was a critical criteria for this award—really lead us to choose this winner."