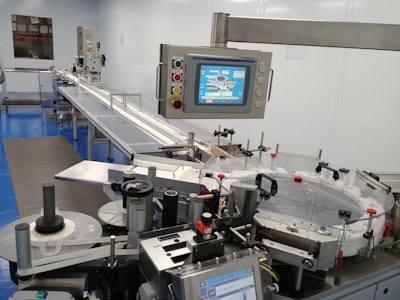 Reed-Lane, a pharmaceutical contract packaging provider, has added a room for vial and ampule kitting to its cold chain capabilities. Located adjacent to its existing cold chain infrastructure for limited intra-facility travel and product excursion, the space is designed so that it is capable of labeling vials and ampules, then kitting them with other components such as printed literature.
Once products are kitted they are brought to Reed-Lane's carton serialization suite, which is made to handle serialization from unit level coding to full pallet aggregation.
One benefit noted by the company is that the additional cold chain environment makes Reed-Lane a more viable player in the packaging of biopharmaceuticals, a burgeoning pharma industry niche. Among Reed-Lane's reasons for entering the cold chain market is the strong growth of the biologics industry, whose high-value products often place added emphasis on proper, tightly controlled storage temperatures.
As is widely known, maintaining a secure cold chain throughout the storage, handling, and transportation of temperature-sensitive drugs assures product quality and integrity, benefitting patients and keeping manufacturers, hospitals, and pharmacists in compliance with various laws, regulations, guidelines and codes.
"The new dedicated environment for vial and ampoule kitting showcases Reed-Lane's commitment to steadily growing our cold chain capabilities," says Patricia Elvin, President of Reed-Lane. "In combination with our ahead-of-schedule ability to achieve full aggregation for serialized products, this latest infrastructure makes us even more attractive to biopharma companies as well as an expanding set of traditional pharma manufacturers."
Companies in this article