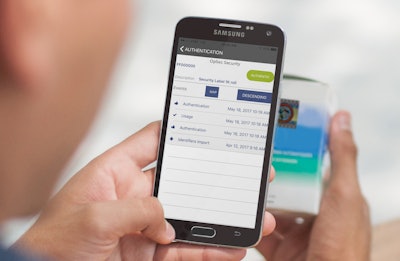 OpSec Security, a global company involved in protecting, authenticating, and enhancing brands, services and revenues, extends their mobile OpSec InSight platform to include authentication of advanced optical security images. These technologies are said to be ideal for application use directly on products and packaging.
The company has launched a series of mobile authentication technologies that bring the convenience and ease of authentication and access to smartphone users throughout the supply chain. The platform includes features that address the unique needs and interests of brand owners, enforcement professionals, and consumers.
The proliferation of smartphones into our culture makes it a natural extension to the authentication process. The company says its competitors use smartphones to look up a unique serial number, but OpSec Security is taking mobile authentication to the next technological step.
The new mobile authentication technologies will work with OpSec's entire portfolio of state-of-the-art optical security technologies. The combination of overt, covert and digital technologies combined into a single authentication device provides stakeholders with immediate access to product information and significantly raises the barrier of entry for counterfeits and overproduction.
Companies in this article