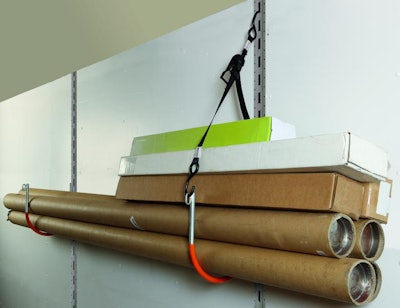 Kinedyne LLC, a designer, manufacturer and distributor of cargo control products for the transportation industry, announced the introduction of THE E-HOOK brand wall-mounted, freight-loading storage solution. The product holds two patents and solves a problem that has plagued those loading heavy-duty trailers, box trucks, service vehicles and light-duty trailers; how to safely and securely stow long and unwieldy cargo and keep it off the floor.
THE E-HOOK mounts securely to any vertically installed A-Track, E-Track or logistic post system. Users insert THE E-HOOK's patented brackets into the track slots and slide them down until they are securely seated.
The product is robust and has a working load limit of 300 lb (135 Kilograms). Multiple hooks can be mounted to accommodate longer cargo. THE E-HOOK can be installed at different heights along a wall to support freight with contoured shapes.
The device is also designed with an eye-loop at its outer end, enabling cargo securement products to be hooked in for additional cargo stability and security. THE E-HOOK is made of clear zink-plated steel with a slip-resistant coating of orange vinyl in its cradle area.
Some freight is difficult to contend with because it is unable to stack or be part of a stable cargo structure. Those loading a vehicle are often faced with the awkward task of packing tubes, pipes, beams, cables, hoses and other cargo that is unconventional in length or shape, and often opt to simply place these items loose on the floor, reducing vertical storage capacity above.
With THE E-HOOK, hard-to-stow items are no longer relegated to the deck, where they can be damaged, pose a tripping hazard and take up otherwise valuable space. By converting wall space to storage space, overall cargo capacity can be dramatically increased and worker safety and productivity enhanced.
THE E-HOOK, product number 80147, is expected to be commercially available in June 2017 and can be purchased through Kinedyne's extensive distribution network, which includes thousands of outlets across North America.
Companies in this article