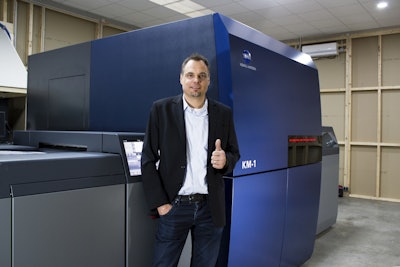 PLS, a subsidiary of the American online printing service OvernightPrints that employs 400 people worldwide, is the first beta site for the press from Konica Minolta.
The company provides fast, overnight printing for a wide range of products, servicing clients through its European webshops. The Konica Minolta AccurioJet will play a central role in the development of new services and offerings.
Arndt Eschenlohr, President of PLS Print Logistic Services GmbH, says: "I've never known a technology like this. It is better than offset printing. One of the added benefits is that wastage is kept to a minimum. The AccurioJet KM-1 has enabled us to move into new markets, such as packaging, which we are confident will be a major growth area for digital printing."
In the past, PLS used both offset and Konica Minolta bizhub products to fulfil its clients' needs due to the high expectations they place on quality, fast turnaround times and service. PLS's business model is based on an average run length of 160 sheets. Conventional offset printing became impractical for the company, because the quantity of wastage using this technology ranges from 70 to 150 sheets/job.
Three major benefits of the KM-1 press for the PLS business are:
• Enhanced paper handling and workflow technologies
• Using UV inks enables the company to move work quickly and easily to finishing with offset quality on standard offset stock. This brings the advantage of not having to pre-coat or to use a special suitable digital stock.
• Superior production capabilities because of the Konica Minolta expertise in inkjet head design and inline controls that monitor quality.
Mark Hinder, Head of Market Development, Konica Minolta Business Solutions Europe, says: "PLS has demanding requirements, which makes PLS exactly the right customer to really push the KM-1 to its limits. Our focus now is to push even further through testing plastics and packaging materials to allow PLS growing further its capabilities to capture new market opportunities that UV inkjet can create."
Companies in this article