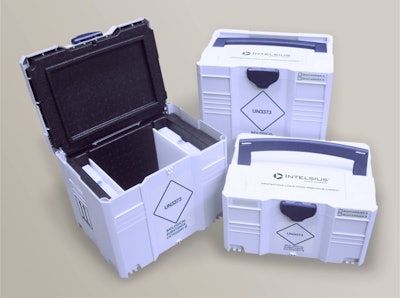 Intelsius, a DGP company, and designer, manufacturer and distributor of temperature-controlled packaging solutions, introduces the BioCarrier™, specifically designed for local courier routes and multiple site sample collections.
This regulatory-compliant BioCarrier cases are designed to provide regular route, multiple site sample collection, and "home visit" temperature-sensitive injectable drug protection.
The rugged polymer outer with the expanded polypropylene (EPP) insulated liner maintains payload integrity at 2° to 8° Celsius for 12 hours-plus or when using dry ice up to 18 hours. All three sizes are regulatory-compliant with preprinted UN3373 labels for the shipment of Category B biological samples.
The rigid, durable outer cases feature a clasp closure allowing the lid to be secured and the cases to be stacked and locked together. These cases were ergonomically designed specifically for couriers to enable safe, comfortable, compliant transportation around the corner or across town. Their discreet design keeps the contents confidential.
Keeping people safe while samples or medicines are being transported around town is the primary reason for creating the BioCarrier line of products. Intelsius serves a wide range of organizations, including government agencies, leading pharmaceutical, biopharmaceutical, and clinical research industries to major laboratories.
Companies in this article