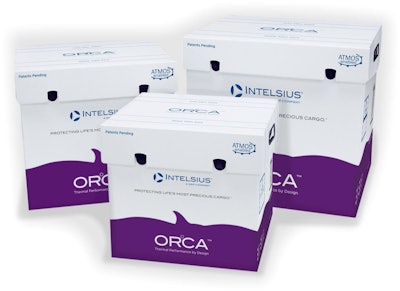 Intelsius announces the addition of its ORCA(TM) 2.0 range of products. Designed to raise the bar in thermal performance, the ORCA range protects valuable payloads, and according to the company, a portion of the proceeds of each unit sold in Europe will be donated to a chosen whale and dolphin charity partner, ORCA.
The ORCA 2.0 line is a high-performance range of solutions that provides 170-plus hours of superior thermal protection for high value, temperature-sensitive payloads. The entire ORCA 2.0 range is ATMOS(TM) (Analytical Thermal Modeling Software)-enabled, allowing quick risk assessment for the suitability of ORCA on routes around the world.
The ORCA 2.0 range utilizes the company's Plantol(TM) Phase Change Material (PCM) that allows the ORCA 2.0 solutions extended duration in both extreme hot and cold environments with simple pre-conditioning. The versatility of panel configurations for this line provides for cost-effective performance.
The partnership with the ORCA charity aligns the growing global presence of Intelsius and its commitment to environmental stewardship. Founded in 2000, ORCA is a marine conservation charity dedicated to forging links between people and the sea through the study of whales, dolphins, and porpoises.

Companies in this article