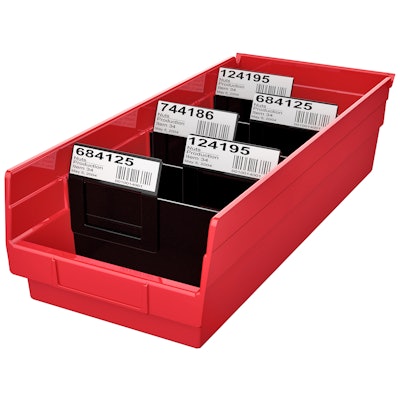 Akro-Mils, producer of storage, organization, and transport products, introduces Divider Label Tabs, which attach to existing dividers to improve the visibility of bin labels and the scanning of bar codes.
Tabs feature an angled face (patent-pending) that allows users to clearly see the label of each compartment of a divided bin without moving contents. The label face accepts standard 1 in. x 3 in. adhesive labels (Akro-Mils' 29202 labels are recommended).
Ideal for efficiency initiatives such as 5S Lean, Kanban, and JIT, Divider Label Tabs can be offset like file folder tabs to keep multiple labels visible in the bin. The tabs are designed to sit nearly flush with the top of Shelf Bins and ShelfMax® Bins, and will not snag on shelving units.
Divider Label Tabs can be used with Akro-Mils' AkroBins®, Shelf Bins, ShelfMax Bins, Super-Size AkroBins®, Indicator® Bins, InSight® Bins, VantageBinsTM and Akro-Grids.
Companies in this article