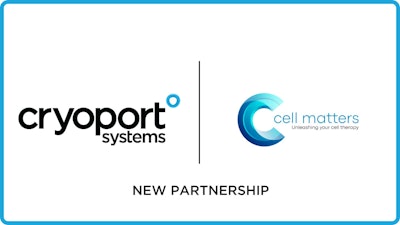 This content was written and submitted by the supplier. It has only been modified to comply with this publication's space and style.
Cryoport, Inc., a temperature-controlled supply chain solutions provider for the life sciences industry, announces that it has entered into a strategic partnership with Cell Matters, S.A. to deliver to the life sciences industry end-to-end cryopreservation services for leukapheresis derived therapies supporting both autologous and allogeneic cell therapies. The companies will jointly develop the commercial approach for marketing these services.
Cell Matters, a Belgian based company, enhances cell therapy productivity by turning cryopreservation into a competitive advantage, offering an integrated set of GMP services, in line with regulatory, quality, and GMP requirements of the cell therapy industry. Cryoport combines expertise in cryobiology, cell therapy production, and bio-logistics. Further, Cell Matters has launched a cryopreservation platform dedicated to the cryopreservation of leukopaks with international cell therapy customers currently onboarding.
Commenting on the new relationship, Jerrell Shelton, chief executive officer of Cryoport says, "The number of regenerative therapies continues, and will continue, to increase across the world. To meet and support this growing demand, our cryogenic service platform expansion has been an important strategic initiative for our company. To that end, over the past year we have been actively expanding our reach via acquisitions, organic growth, and strategic relationships. Having a more significant presence in the European Union is a priority for us."
"This new strategic relationship with Cell Matters will further augment Cryoport Systems' consulting services and will assist in our continuing innovation and additional temperature-controlled packaging solutions tailored to our markets" he says. "The strategic alliances we are forming, coupled with select acquisitions in services and products, are strengthening our comprehensive supply chain solutions for the life sciences and our capacity to serve the industry's evolving and growing needs."
Delphine Connan, chief executive officer & co-founder of Cell Matters, says, "As cryopreservation is a key component of the supply chain, we are extremely pleased to create this partnership with Cryoport Systems. Together, we can combine our respective technologies and expertise to offer true end-to-end cryopreservation services to cell therapy clients."
The relationship between Cryoport and Cell Matters has two key components, which are:
Cell Matters and Cryoport Systems will launch a joint service to support the development, the optimization, and the actual cryopreservation of leukopaks for preclinical, clinical, and commercial use. The partnership will solve the main challenge of cell therapy manufacturers which is the timely supply of high-quality manufacturing-ready leukopaks; and
Cryoport Systems and Cell Matters will provide clients with a new comprehensive suite of cryopreservation solutions.
Companies in this article