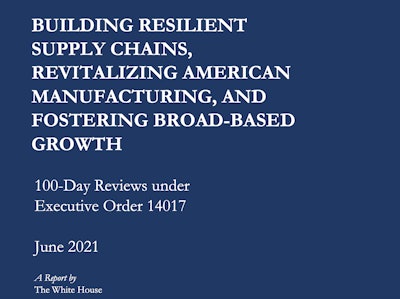 This content was written and submitted by the supplier. It has only been modified to comply with this publication's space and style.
Healthcare Distribution Alliance (HDA) president and CEO Chester "Chip" Davis, Jr., released the following statement in response to key findings from the Biden-Harris Administration 100-day supply chain review.
"While the healthcare supply chain has proven to be resilient in the face of a global pandemic, COVID-19 exposed vulnerabilities that require further coordination, cooperation and collaboration between the government and private sector. HDA and its members appreciate the Biden-Harris Administration's prioritization and work to strengthen and reinforce our nation's critical supply chains.
"As outlined in the 100-day review, it will be critical to ensure that steps are taken to reform the Strategic National Stockpile (SNS), improve transparency across the pharmaceutical supply chain, and balance cost implications. HDA members are positioned to support these efforts and have extensive relationships with global and domestic manufacturers, fulfilling 93% of all U.S. pharmaceutical sales according to the latest data. HDA members have already been engaged in supporting the restructuring of the SNS and are regular participants in pharmaceutical supply chain discussions with both public and private stakeholders. The industry stands ready to further leverage its logistics expertise, capacity, and capabilities.
"The healthcare distribution industry has, to date, been integrally engaged in our nation's response to COVID-19, working with federal, state and local government agencies to distribute medical supplies, PPE, therapeutic treatments and vaccines. HDA's 35 distributor members continue to work around-the-clock to increase medical capacity and enhance our national supply of critical medications and products required to fight this pandemic, protect our frontline care providers, and enable treatment for patients.
"We look forward to further partnering with the Administration to ensure the safety and resiliency of our healthcare supply chain and providing vital medical supplies to healthcare facilities and patients in communities across the country."
Companies in this article