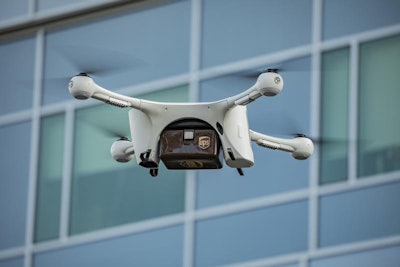 UPS has announced several new tech-enabled services and partnerships designed to support customer needs in the life sciences and e-commerce sectors. Here's a breakdown of the (many) new initiatives.
Update on drone subsidiary UPS Flight Forward
Building on UPS's hospital network-focused drone delivery program, UPS Flight Forward is expanding in scale to include new customers and future drone delivery plans.
"When we launched UPS Flight Forward, we said we would move quickly to scale this business – now the country's first and only fully-certified drone airline – and that's exactly what we are doing," said UPS Chief Strategy and Transformation Officer Scott Price. "We started with a hospital campus environment and are now expanding scale and use-cases. UPS Flight Forward will work with new customers in other industries to design additional solutions for a wide array of last-mile and urgent delivery challenges."
Launch of priority handling service
For time-and temperature-sensitive packages, UPS Premier will provide its most comprehensive priority handling services for critical shipments using multiple next-generation sensor technologies. This is part of UPS' effort to retrofit key parts of the company's network with smart, IoT systems to track healthcare packages.
Additionally, the company reports that it is connecting all of its global healthcare and life sciences business under a single, dedicated UPS Healthcare and Life Sciences (HCLS) unit.
The new unit includes operations and over 5,000 personnel from Marken, Polar Speed, and all 114 UPS healthcare facilities, with a dedicated and healthcare-trained salesforce and customer support teams for customers across the global network.
UPS has also redesigned its Quality Management System (QMS) to reflect systems which exist today at many pharmaceutical companies. The QMS features a cloud-based electronic document management system, global standard operating procedures (SOPs), best-in-class validation processes and global reporting tools.
Broadening e-commerce services
The new UPS Digital Access Program is an initiative to make its e-commerce services even more broadly available through a series of strategic alliances and agreements.
The company has prioritized e-commerce growth by enhancing its network and services to enable faster deliveries, enhanced visibility and a broader range of delivery options. With the UPS Digital Access Program, UPS is establishing preferred relationships with leading digital platforms to easily offer discounted UPS shipping rates and other shipping and logistics solutions to their merchant customers.
Under this program, UPS launched its collaboration with Stamps.com to offer discounted shipping rates to its 740,000 e-commerce customers. Stamps.com offers a portfolio of Internet shipping software solutions under the brand names ShipStation, ShippingEasy, ShipWorks, Stamps.com and Endicia. These solutions help small and medium-sized e-commerce businesses run their shipping operations more smoothly and successfully.
The UPS Digital Access Program helps e-commerce platforms provide a comprehensive suite of related order management, fulfillment and delivery services that can be utilized to simplify logistics complexity. This is designed to give small and medium-sized businesses the opportunity to provide the same high-quality customer experience as large e-commerce companies.
UPS Economy expands in EU
UPS also announced that customers in Germany, France, and the Netherlands will soon gain access to UPS Economy. This service is designed to offer businesses an economical and efficient shipping option to reach customers in countries outside the European Union (EU).
Companies in this article