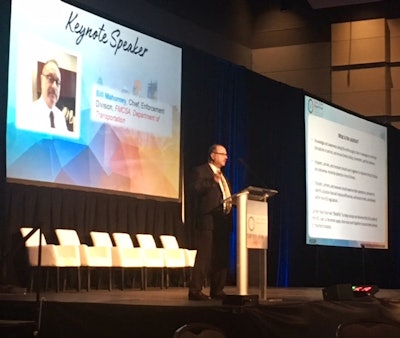 Driver fatigue is a serious issue in the transportation and supply chain community. And until recently, there was no electronic requirement to track how long a driver has been on the road.
Bill Mahoney is the Enforcement Division Chief of the Federal Motor Carrier Safety Administration (FMCSA) under the Department of Transportation. As he explained at the Cold Chain Global Forum, the ELD (Electronic Logging Device) Mandate was passed in Congress in Dec. 2017 attempting to change the open industry secret that truckers drive for longer than they should at times.
The mandate necessitates that any driver required to previously keep a paper record of duty status must install an ELD in their vehicle for instant third party verification that they are not working more than 14 hours per day and not driving more than 11 hours per day.
The data they obtain can only be used for hours-of-service (HOS) violations. ELDs do not measure distance or if drivers are exceeding speed limits.
Mahoney said that the supply chain effects of this safety mandate should not be overlooked in an industry that already has a crippling shortage of drivers and capacity issues. With the grace period for the ELD Mandate over as of Apr. 1, driver bandwidth may shrink as much as 15% more.
The mandate is there to protect people, though it does mean that manufacturers will have to work with reduced flexibility. That means tightening up operations to avoid driver downtime. "Work with your carriers and your own supply chain. Every hour or minute that driver has to wait is one less hour in that 14-hour day that they can drive and move products," he said.
The agency collected data on drivers beginning at the soft rollout in April. Though drivers were cited but not removed from service, there was a clear drop in violations—what Congress had hoped for. "It takes a few years to collect data for analysis. What we're hoping to see is that this translates into saving lives and less fatigue. It's dropped by a considerable amount already."
The ELD Mandate is in effect now, and will be fully implemented in Dec. 2019.
If drivers exceed their HOS, they are put out of service (OOS) for ten hours. Drivers and carriers are held equally responsible in the regulations, and fines can be given out on the roadside. Insurance rates may also increase. In extreme cases, a company can be declared an imminent hazard if they refuse to comply, but that is rare. Where you really get hit is insurance rates, liability.
Action you can take
The comment period on the Advance Notice of Proposed Rulemaking (ANPRM) ended in Sept. 2018. But you can still check out the training: https://www.fmcsa.dot.gov/hours-service/elds/training-and-events
"We are the only agency in Department of Transportation to give advance notice. It's a good thing, it gives folks like you an opportunity to comment," he said.
He noted that Ray Martinez, FMCSA Administrator, is committed to getting good data on this topic." It's got people engaged... Voices can be heard but you have to comment."
Looking ahead
The agency is tracking the number of violations, as well as accidents and fatalities. But Mahoney said they are looking for long-term data, and want a year's worth before drawing first conclusions. Every year they publish a booklet with the data they've tracked.
And what about age limits for drivers? Interstate regulations require drivers to be 21, though a lot of insurance companies won't insure drivers under 25.
Mahoney concluded, "There's a lot of work yet to be done." When questioned about autonomous vehicles, he mentioned that it's something they are keeping in mind; the focus is the technology right now, making sure they're safe and operational.
This article was originally published on Sept. 27, 2018.