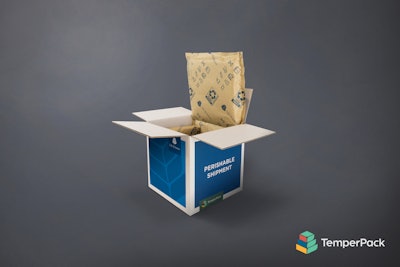 By the end of 2018, Diplomat Pharmacy expects that it will complete its switch to ClimaCell™ coolers from TemperPack for its temperature-sensitive medication shipments.
Flint-MI-based Diplomat Pharmacy is an independent provider of specialty pharmacy and infusion services, helping people with complex and chronic health conditions in all 50 states, partnering with payers, providers, hospitals, manufacturers, and more.
The ClimaCell coolers are recyclable at curbside and can be recycled wherever plastic bags are accepted. For Diplomat Pharmacy, these coolers will replace expanded polystyrene (EPS) foam coolers.
Diplomat's efforts are expected to divert more than five tons of plastic from landfills every week by moving away from EPS foam, reflecting the organization's commitment to protecting the environment while ensuring patient safety.
"Switching to ClimaCell not only reduces Diplomat's carbon footprint; it's also a reflection of our steadfast commitment to patients," says Diplomat CEO Brian Griffin. "It's difficult to dispose of EPS foam responsibly, and our patients have already expressed their excitement about reducing the amount of plastic heading to landfills. This new packaging allows us to be better stewards of the environment while keeping specialty medications at a stable temperature."
The paper-based ClimaCell materials ship flat, saving space both in transit and in Diplomat's facilities. TemperPack says ClimaCell are the first certified recyclable shipping cooler of its kind with thermal performance equivalent to that of EPS on an inch-for-inch basis. The new coolers are designed to maintain strict temperature requirements for life-saving medicines whether its 2-8°C, CRT, or deep freeze and have been validated under stringent International Safe Transit Assn. protocols. TemperPack says ClimaCell manufacturing is also energy efficient, claiming that Diplomat's switch to the coolers will result in Diplomat diverting CO2 emissions equivalent to burning over 3.3 million pounds of coal.
TemperPack Cofounder James McGoff notes, "Our healthcare system relies on petroleum-based plastics—especially EPS foam. Patients don't think this is sustainable, and neither do we." Its website exclaims that the company provides "Packaging that makes waves instead of floating in them."